What's in your EDC?

What is an EDC and why should you carry one?
An EDC, Every Day Carry or Go Bag is really just a backpack, sling pack, messenger pouch, purse or even a wallet that you carry everyday with the gear and other stuff that you need throughout the day. No matter where you go, it comes with you. Some like to take it a step further and carry additional gear that might help get you home or to a safe location in the event of an emergency.
There are millions of reasons why an EDC could make all the difference between life and death, and not necessarily your own. You could be involved in a car accident, breakdown or maybe you just ran out of gas and you are miles from home. You could just as easily witness an accident and need to pull someone to safety or provide them with first aid to save their life, or you could experience a natural or man-made disaster like an earthquake, tornado, EMP or some kind of explosion to name a few. Some reasons will always be more obvious than others, but if you are generally prepared your chances of survival increase exponentially.
So what should you pack?
It is always important to consider weight when you are deciding what to carry in your EDC. Every ounce counts, and if you happen to carry concealed, then you also have a weapon, extra magazines and ammo to consider. Remember, if it makes it into the pack, then you'll have to lug it around with you. Therefore, I try to keep the weight of my EDC under 15 pounds whenever possible, though lately it seems to be up around 20. I might need to pull some stuff out. You never know when you might need to make haste out in the field.
Personally, the gear that I often carry around could change multiple times per day depending entirely on where I happen to be going at the time. If I'm headed out to the mountains of desert, I will pack plenty of extra water, a fixed-blade knife, a small firestarter kit, a Survival Tarp, a 2400-Calorie Emergency Rations, and a Klean Kanteen Stainless Steel Bottle to boil water in. If I need to visit with a client or go to a colo out in LA, I'll usually pack a laptop, some tools and other stuff that I might need if I found myself hiking 50 miles back home.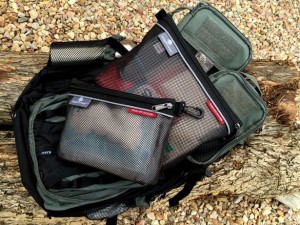 It takes far too long to go through an EDC, evaluating one item at a time. But if you don't take the time, you likely end up with an extremely heavy pack full of stuff that you don't need. To solve this problem, I like to organize my gear into multiple smaller kits that I can add or remove from my EDC at a moments notice. This keeps my pack much lighter and I always know what I have with me. For this, I like to use either the Travel Gear Pack-It Set by Eagle Creek or Travel Set by Dot&Dot as they are very lightweight. However, the Maxpedition Beefy Pocket Organizer and Maxpedition First Aid Pouch are much more durable and might make more sense to you. All are well made, perfect for organizing and distributing your gear.
One of the most important kits that I always carry is a basic first-aid kit. It contains all of the usual goodies found in most including; a few bandages varying in size from small to large, a few gauze pads also varying in size from small to large, a few butterfly bandages, a roll of gauze, a roll of bandage tape, small scissors, tweezers, Bic lighter, a small bottle of hand sanitizer, tube of antibiotic ointment, Carmex lip balm, Pepto tablets, a dozen q-tips, some cotton balls, antiseptic wipes, Betadine wipes, two pairs of non-latex exam gloves, a sterile mask and two ammonia inhalants.
The items that I typically keep in my main kit include; a BlackHawk Shemaugh, a YogaRat Microfiber Hand Towel, 50′ 550 Paracord, one pair of Gorilla Grip Work Gloves, two 3M Dust Masks, a bandana, two mylar blankets, a couple of garbage bags, a dozen 12″ zip ties, a roll of electrical tape, three S-biner clips, a small bottle of hand sanitizer, a travel toothbrush and toothpaste, a travel pack of tissues, a travel pack of wipes and three 10′-long sections of toilet paper, each wound tightly into individual rolls and stuffed into a heavy-duty ziplock bag so they lay down flat and stay clean and dry. This provides me with much more flexibility when it comes to sharing my resources.
Another kit that I usually like to keep in my EDC is the Best Glide Survival Sewing and Repair Kit. It contains loads of useful items including; kevlar thread and needles, cord, duct tape, rubber patches, braided wire, and even a small razor blade knife just to name a few. I usually add to it as I find other useful items that I think I might need.
In the small admin pocket on the front of my EDC pack I usually keep the following items; a Mini SAS Survival Guide 2E, a Moleskin Pocket Notebook or other small notebook, two gel pens and a permanent marker, a pack of gum, playing cards, a couple of those stainless steel card-sized survival kits, some extra cash and a second Bic lighter.
In the frontmost zippered pocket I like keep the following items; an Fenix UC35 Flashlight, a Schrade SCHDDS Compact Field Sharpening Rod, a 2.9″ fixed-blade Dozier K-9, a Schrade SCH406N Neck Knife, a Kershaw Select Fire Model 1920 Folding Knife and a small hairbrush. I also keep a small plastic box of batteries in this pocket containing a few spare AA, AAA and button batteries for each of my flashlights.
In the hydration bladder compartment I typically keep a Platypus Platy Bottle 2L, two small packs of jerky, three 180 calorie packs of trail mix and sometimes even a small pack of sunflower seeds.
Loose in the bottom of the main compartment I keep; one Sawyer Mini Water Filter or LifeStraw Personal Water Filter, a Frogg Toggs Packable Poncho and a Totes Compact Umbrella.
Attached to the admin pocket zipper-pull I keep a Streamlight Mini Flashlight so it is always within reach when I'm searching through my pack.
Attached to other zipper-pulls I like to keep a resqme Vehicle Escape Tool and a Gerber 22-01769 Keychain Tool so they're also easily accessible.
When I'm headed out into the field to work on computer systems, I usually pack two additional kits and a laptop… One kit includes; a USB flash drive, network and USB adapter cables and of course the stuff for my laptop. In the other kit I like to pack a few small tools including; screwdrivers, extra zip ties, a IRWIN Groove Joint Pliers, a Fluke Networks D-Snips and sometimes a Fluke Networks Modular Jack Crimper along with a few RJ45 ends.
Some of items that I've often considered adding to my EDC gear rotation but haven't for one reason or another include; a small lock pick set, a suture kit or steri-strips, Best Glide Survival Fishing Kit, Pocket Predator Hathcock Target Sniper and ammo, Schrade SCBAT21H Baton, Combat Application Tourniquet, CAT or R.A.T.S. Rapid Application Tourniquet, and an Israeli Army Bandage. I've even heard of people packing tampons because they are lightweight, sterile and could easily be used to plug wounds in a pinch.
Final Thoughts
Not only can the gear you pack in your EDC save your life or the life of another, the knowledge and experience that you achieve from putting an EDC together, and the added confidence that you gain through preparedness can help you in many other areas of your life. Always having my EDC nearby provides me with a much higher level of comfort when I am traveling far from home. However, I really do need to get better about bringing it along with me on shorter errands. You never know when you'll be needing it, and it does you no good if you leave it at home.
I'd love to hear other opinions and ideas for improving my own EDC, and to help others do the same. Please leave a comment and join in on the discussion.

--