Fenix UC35 Flashlight Reviewed

Marketing from Fenix Lighting
This high power flashlight packs a punch with an impressive 960-lumen turbo output that throws a beam 200 meters (656 feet). The UC35 aircraft grade aluminum body comes with a dual control system for simple operation and a USB rechargeable hub keeps the 3200 mAh battery easily charged for when you are ready for it.
Manufacturer: Fenix Lighting, fenixlighting.com
Model: UC35

Length: 5.9″ (150mm)
Width: 1″ (25.4mm)
Weight: 3.5 oz. (126g) weight excluding battery

Batteries: One 3200 mAh 18650, or two CR123A (non-rechargeable)
Included: One 3200 mAh 18650 battery, Holster, clip, lanyard, 3′ Micro-USB charging cable and two spare O-rings
Warranty: Limited Lifetime Guarantee from Fenix Lighting US

UPC: 6942870302843
MSRP: $116.00

The Review
In my EDC, I always carry at least three lights. Two of them are usually small twist-on LEDs lashed to zippers, but the third and primary light is always something with a much higher lumen rating. I recently came across the Fenix UC35 flashlight which has a USB charging interface so it can easily be recharged anytime, anywhere. Working in offices and data centers, this was quite appealing to me so I had to have a closer look. Is it EDC capable? Let's find out…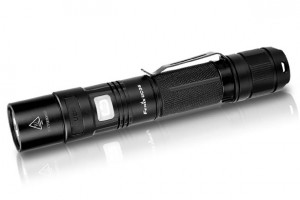 In the past, I have relied mostly on flashlights that utilize commonly available batteries like AA and AAA, and I really didn't want to add another battery size to hoard. But with all of the advances in LED technology and the dramatic increases in lumen power, it has become necessary to consider other options.
Many of the compact high-lumen flashlights available these days are powered by one 18650 rechargeable Li-ion battery or two 3V CR123A Lithium batteries to keep up with the latest high-powered LEDs like the Cree XM-L2 (U2) LED found in the Fenix UC35 flashlight. No more carrying around spare bulbs with LEDs. They are highly-efficient and have an average lifespan of 50,000 hours or more.
The Fenix UC35 kit includes one Fenix 3200 mAH 18650 battery, a nylon holster with a belt loop and a hook and loop flap to secure the flashlight, a metal pocket clip, removable lanyard, 3′ Micro-USB charging cable and two spare o-rings.
The UC35 is made from a durable aircraft-grade aluminum with a precision machined anti-roll, slip-resistant body design that is covered with a premium black Type III hard-anodized anti-abrasive finish. It is 5.9″ end to end and 1″ in diameter, weighing only 3.5 ounces without the battery.
Protecting the Cree XM-L2 (U2) LED is a rugged ultra-clear glass lens with anti-reflective coating. The lens and each of the threaded joints are protected with durable rubber o-rings that are replaceable for an effective watertight seal. The two operating buttons and USB charging port are also rubberized for a positive seal providing the UC35 with an IPX-8 waterproof rating good for up to 2 meters and an impact resistance of up to 1 meter.
The head of the flashlight is nearly 2.75″ long and contains the lens, LED element, charging system and an output selector switch with the following 6 available modes including strobe. With the flashlight on, simply press the side selector switch until the desired mode is reached. To activate the strobe, press and hold the selector switch for one second.

The light output of the UC35 is digitally regulated so that maintains constant brightness throughout the entire draw of power from the battery. It also features a low-voltage warning function to let you know when to charge or replace the battery by intermittently flashing the mode selector red once the power level gets below 33%. Additionally, the brighter modes tend to run very hot and can cause severe burns. To combat this, the UC35 provides overheating protection shutting down the light when it gets too hot.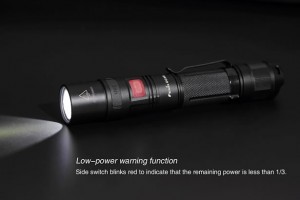 With the rising cost of batteries these days, rechargeable options have become a very attractive features. No need to keep an abundance of batteries on hand.
However, maintaining rechargeable batteries is not for everyone. Remembering to charge them or simply keep them topped-off is not easy… And actually doing it on a regular basis can be quite a chore. Especially when they have to be pulled out of the flashlight to do so. Additionally, having to maintain a charging station with a series of batteries on hand to rotate through can become very expensive as well.
Enter one of the best features of the UC35 flashlight has got to be the USB charging functionality. The ability to charge the flashlight without a separate charger is fantastic. Near the head of the flashlight just above the mode selector switch, there is a small Micro-USB charging port that can be connected to virtually any powered USB port, USB charger, portable battery pack, computer, and even most portable solar panel units which make charging the UC35 as easy as it can get.
To activate the charger, simply plug the Micro-USB cable into the USB port and press the button located at the tail-end of the flashlight until it clicks to the "on" position. The mode selector will immediately begin to glow red while it is charging and then it turns green when it is finished. Simply click the tail button again to turn the flashlight off and unplug it when it's done.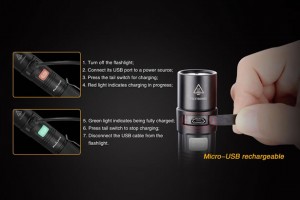 The next section is the battery tube measuring about 1.75″, large enough to hold one 18650 rechargeable Li-ion battery or two 3V CR123A Lithium batteries. The UC35 also provides reverse polarity protection to guard against improper battery installation. The kit provides one 3200 mAh 18650 rechargeable battery, though it can operate with lower and higher amperage 18650 batteries as well.
The endcap is 1″ long and 1″ in diameter features a tactical-style tail that can be used to pommel in self-defense. It provides two lanyard attachment holes for a variety of attachment options. Finally, the end cap contains the on-off button with momentary-on functionality. Pressing the button lightly will activate the light until the button is released. Pressing the button until it clicks will activate the light until it is clicked off again.
Fenix Lighting US offers a Limited Lifetime Guarantee on all of their chargers and flashlights. More information related to support and their warranty can be found on the Fenix Lighting website here.
Using the UC35 with the white diffuser provides a nice softened glow over a wide area, perfect for use as a camp light or work light. Red, green and blue diffusers are also available.
Functional Testing
When I shined the light at a wall of trees in the distance (fairly close to 200 meters away), the light was easily bright enough to make out the shapes of the trees, but not so much so that I could make out the fine detail of them. Of course, someone with better eyesight might be able to see more detail than I.
Initially, I timed the UC35 with the supplied Fenix 3200 mAh 18650 on the two higher-lumen modes and found the chart above to be difficult to validate the accuracy. Given the disparity between batteries, usage and overheating, I am not at all surprised. I feel that it is pretty much impossible to be 100% accurate with regards to runtime and note conservative estimates as such.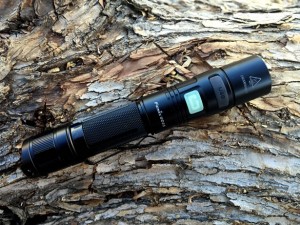 As batteries cycle, their ability to store power gradually decreases. However, if properly maintained, the newer Fenix batteries should be able to retain as much as 70% of their original capacity at 500 full charge and discharge cycles. How to properly charge batteries can be confusing to say the least… But here is a link to an interesting article related to properly charging Li-ion batteries.
In Turbo mode with a full charge, the flashlight was providing around 960 lumens. The light shined extremely bright for a little over 10 minutes before automatically stepping down to High, and then down again to Medium about 20 minutes later where it continued to shine at a consistent level for nearly 4 hours before I killed the test. I am assuming that the flashlight kept stepping down due to overheating as part of its internal protection system… At least, that would certainly explain it.
In another test, this time starting in High mode from a full charge, the flashlight was providing around 480 lumens. The light shined steadily for a little over 35 minutes before automatically stepping down to Medium where it also continued to shine at a consistent level for almost 4 hours before I finally killed the test.
I killed both higher-lumen tests mostly due to the fact that at that point, I knew that I would never have accurate results demonstrating anything worthwhile. I tried each of the tests a few more times alternating between the two UC35s that I had on hand using various methods to try and keep the flashlights cool including using fans, but it never really made any difference whatsoever. I was not able to get past the interference from the overheat protection.
Then it dawned on me… The flashlights are waterproof. Attempt number three was back on.
I filled a glass full of cold water and set one light on Turbo and the other on High. But after only 10 minutes, the flashlight that was set to Turbo stepped down to High. Even in the cold water. The other flashlight, on the other hand, kept shining away on High for another 25 minutes before it stepped down to Medium. Damn! No matter what I tried, I just could not get either of these flashlights to complete a full run cycle on Turbo or High so there really is no way to test the runtime table for these two modes.
For the final attempt to validate at least one of the runtimes, I decided just to start at Medium and see if I could get at least one full test completed without any interference from the protection system. Once again I charged the flashlight and began the test, but this time at Medium providing only 180 lumens. Haleluya! It hit 9 hours and 30 minutes and still had some life left in it. Though after a few power cycles, I'm sure it won't hit that mark with this battery again.
Final Thoughts
The Fenix UC35 flashlight is durable, lightweight and built from quality materials with loads of features and capable of providing up to 960 lumens of light. Perfect for tactical and self-defensive purposes. The overall design and functionality is well-polished so it is comfortable to grip and easily operate by touch, even in wet conditions. No fumbling around as you try to operate it in the dark. The charging port is securely mounted and easy to access in the head of the flashlight, and each of the buttons has a crisp action and function well.
The only feature lacking that comes to mind, and is often found in other flashlights would be a magnetic base. I really do miss that feature after using it often with other flashlights.
I have been using the UC35 solely for a few weeks now, and it has performed flawlessly the entire time. It has been extremely convenient to charge it via the USB port from time to time to keep it topped off. The light has been very efficient, and it seems to hold a charge rather well when not in use. With its fairly good impact and moisture resistance, the UC35 certainly functions well enough for use in the field. So for now, the UC35 is going to be my go to primary EDC flashlight for the time being.

About Fenix Lighting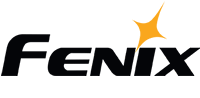 Fenix continues to advance illumination technology turning precision LEDs into consistent illumination takes the full spectrum of disciplines. Power management extracts – and balances – energy from on-board batteries. Optical engineering focuses LED output on each light's requirements for distance and dispersion. Ergonomic design puts easily-operated controls in a lightweight package for hand, head or handlebars.
Based in Shenzhen, China, Fenix creates unique lighting products in a company-owned facility under close scrutiny from quality assurance professionals. Unlike contract manufacturers or subcontractors, Fenix owns the performance of each and every light. From owners to employees, the talented team is out to replicate the craftsman's eye for function, fit and finish. Those high standards flow from design to production to quality assurance

--