Bugging out with small children



I've been a prepper for a long time, but when my daughter entered this world, my prepping views changed a lot. I now have this little human who depends on me for every little thing.
Being able to have all of her necessities at home is pretty simple. Simply prep for her as we would for ourselves; extra food and water, etc.
But how do you go about planning to bug out with a child?
At the time of writing this, my child is 16 months old. I did my first mock bug out with her when she was only 2 months old. I did this because I wasn't going to sit around and wait for her to get older to "make it easier". Bad things can happen at the drop of a dime, so I wanted to know how easy (or difficult) it would be.
She was a champ. It was August in central Texas which means it was HOT, so I tried to make the bug out quick, but she was fed and happy at the time. She was always a pleasant child, never cried very much (still doesn't), so I suppose I'm a bit lucky in that way.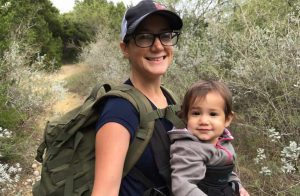 I first drove her in the Jeep to a destination, of course that was easy and everything went great.
Then I took out a jogging stroller and rolled her around in that. That, too, went great and she loved it.
Then I tried to carry her in a child carrier in front, wearing my BOB on my back. That also went great. We were close to each other which meant that we would get hotter quicker, so it was something I had to keep in mind.
I didn't do this for a long, extended period of time. However, it gave me a lot to think about.
What would I do when she needed to be fed in the next two hours and every two-three hours after that? I would need to stop in a secure location and feed her.
What about her nap time? How would I deal with that with her being in the carrier? I probably would have had to turn her around so her head rested on my chest and just tried to rock her to sleep as I continued walking.
What if she started crying and wouldn't stop? It might be an issue, depending on the situation, as I wouldn't want any undue attention. I knew how to effectively calm her down, though, so I was confident there.
It just all depends on the situations.
It taught me a lot, to say the least.
The stuff that I packed for her was (remember, she was 2 months old when I did the mock bug out and it was quite hot):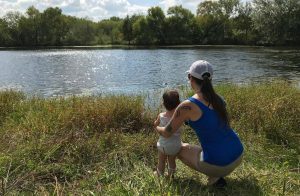 Disposable and cloth diapers
Wipes
Blanket
Butt cream
Extra clothes
A couple toys
A pacifier
Bib
Small cloths
I think that's about it. They don't need a lot at 2 months; eat, sleep, poop.
Now that she's older, and obviously continuing to get older, her needs change and her ability to do things changes, whether she listens or not, etc. And of course, her bug out bag needs will continually change. At the moment I'm carrying all of her stuff, but as she gets older, she'll soon carry some things and eventually, she'll carry everything (her food, extra clothes, toys, etc).
I've had her in a backpack and front carrier since she was 5 months old, hiking around everywhere, so she's pretty used to being in a carrier and she loves it. She also loves the stroller, so that's a positive as well.
I think it's all about getting kids used to certain tasks. If you want your kids to be able to carry their own BOB, then get out for a walk and have them carry their bag. Get them involved in the making of their BOB, too. Get them involved in the whole bug out process and make it FUN! Put a time limit on it and see if the whole family can break their past time. Or maybe, whoever can get their gear in the car first and is seated and buckled in ready to go first, will get some sort of treat.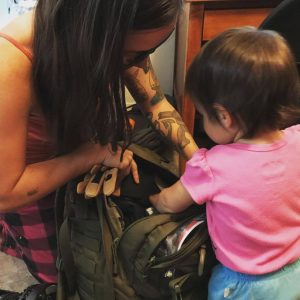 Make sure that you treat them as adults when it comes to bugging out situations. Tell them exactly why you're doing it and how they can help. Don't be demanding about anything, keep it positive, upbeat and let them know that they're a valuable part of the household/team. That without them, the whole bugging out process would be lost!
I think the most important thing about any stressful situation, is to keep a positive, calm demeanor. If you're stressed or angry, your kids will be, too, and even more so, they'll start acting out in a lot worse ways than you.
Maybe giving your child a task, like counting how many cars they see and if they see any emergency vehicle, to let you know. Just something to keep them a bit more entertained so that you can concentrate.
Be honest, but keep your cool.
That's where mock bug outs come into play, it teaches you and it'll teach them.
Kids can be loud, they can be defiant and they can be a handful. It's all about planning way ahead of time to get them into proper routines and getting them used to certain tasks well before an emergency ever happens.
Prepping with kids is a whole new ball game. However, with proper planning, we can easily involve them everyday preps, while at the same time making it known that in the event of an emergency or disaster, it will need to be taken seriously with the appropriate actions. Kids can be overactive and easily excitable, but they are far more observant and intelligent than we usually give them credit for. Involve them the best that you can and don't forget to make it fun and engaging.

About the Author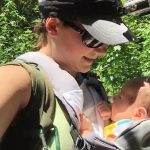 My name is Morgan and I'm a wife, mother and I love all things outdoors and prepping related! I'm on a mission to help people be better prepared, while at the same time always learning new things myself and never being happy with the status quo. Join me on my website: roguepreparedness.com.
Check out Morgan's YouTube channel as well at Rogue Preparedness.
All content and images provided courtesy of Morgan and roguepreparedness.com.
--