Nebo 5519 CSI Edge Tactical Flashlight Reviewed

Marketing from NEBO Tools
The CSI EDGE 50™ is a compact high-intensity tactical flashlight. Constructed of anodized aircraft grade aluminum, The EDGE™ outputs 50 lumens with 1 powerful LED. The water-resistant body design also features a steel clip to keep this flashlight handy, or gives you the ability to use as a cap-light for convenient hands-free lighting. The glow-in-the-dark button is positioned in the back so that you can keep constant control of the flashlight while activating the button. Small enough to fit in the palm of your hand, The EDGE™ shows off its touch side with the aggressive self-defense face. CSI EDGE™… Small never looked so mean!

Manufacturer: NEBO Tools, nebotools.com
Model: 5519
MSRP: $9.99

Features

One high power LED bulb outputs 50 lumens of light (bulb rated for 110,000+ hours of life)
Anodized aircraft grade aluminum water-resistant compact body design
Steel Belt Clip
Rear glow-in-the-dark button
Aggressive self-defense face
Rubber grip for non-slip grip and comfort

Specifications

Output – 50 lumens
Length – 3.75″
Barrel Diameter – .75″
Weight – 0.179 lbs.
Batteries – 1 AA battery (included)



The Review
So after using Nebo's 5620 and 5581 for a while, I decided to look for something a bit smaller and lighter so it would be a little easier to carry. Especially when I'm walking the dogs late at night and stuff like that. I ran across Nebo's CSI Edge 50 and decided to see if it would fit the bill.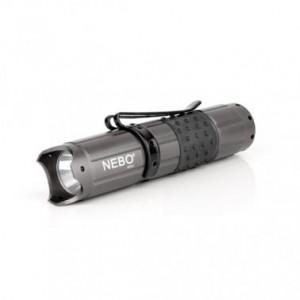 At just 2.2 ounces and 3.75″ in length, the CSI Edge 50 was already looking like it might be what I was searching for. The 50 Lumen LED is certainly bright enough to light the way, but it is just not near bright enough to use as a defensive light. I really liked the fact that the 5519 is powered by a single AA battery, lasting as long as five hours. This was very important to me because AA batteries seem to be more common scattered around my house.
The body of the 5519 is made from anodized aircraft-grade aluminum with an aggressive self-defense styled bezel face and a non-slip rubber grip makes it easy to handle. Each of the threaded joints are joined with o-rings to provide a water-resistant seal.
The 5519 also comes with a forward-facing steel clip that can be used to secure the light on your belt or to attach the light to the bill of a hat. The glow-in-the-dark power button can be found at the rear-end of the light making easy to locate in the dark provided it has been exposed to light prior. If you keep the light in your glove compartment, obviously the button won't be glowing very bright.
Final Thoughts
Nebo's CSI Edge 50 has proven durable at a great price. I've had mine for a few months now and it just works every time I reach for it. Additionally, I really like the size and weight, and especially the fact that it operates on a single AA battery. While it is not as bright as many of their other models, it is also much easier to carry. I recommend you take a look at this flashlight for yourself… Overall, I am happy with my purchase.

About NEBO Tools

NEBO Tools® is a leading supplier of innovative lighting products and tools. We are a division of Alliance Sports Group, a family owned company with headquarters in Grand Prairie, TX. Other product divisions of Alliance Sports Group are NEBO® Sports, Quarrow Fishing Products, PROTEC™ Firearm Lighting, WeatherRite® Outdoor and Bollinger Fitness. Alliance Sports Group is also an official licensee of the U.S. Army brand. Click on the links below to learn more about the Alliance Sports Group family and its divisions.

--