Nebo 5557, 5581, 5599 Redline Tactical Flashlight Reviewed

Marketing from NEBO Tools
The ability to bring high-end technology to a compact, fully-redesigned, extremely powerful light source is finally here. The REDLINE® is our brightest flashlight to date, 220 lumens of pure white light to be exact. In automobiles, redlining is reaching the peak of its performance; whereas we, with NEBO REDLINE® are harnessing the maximum power of this flashlight with 220 lumens of blinding bright light. The REDLINE® has 5 lighting modes, 100% white light (220 lumens), 50% white light (110 lumens), 10% white light (22 lumens), S.O.S. mode (220 lumens), or emergency strobe mode (220 lumens). This flashlight has a 4x adjustable beam that works with any light setting to change the REDLINE® from a flood light to illuminate everything within a 20 yard distance, or to a spot light to focus up to 150 yards. The bezel of the REDLINE® controls the adjustable beam. The red ring of the NEBO REDLINE® enhances all of the features of this flashlight.
Manufacturer: NEBO Tools, nebotools.com
Model: 5557, 5581, 5599
MSRP: $34.99

Features

One high power LED bulb outputs 220 lumens of light (bulb rated for 110,000+ hours of life)
Anodized aircraft grade aluminum water-resistant compact body design
Magnetic base for hands-free lighting
Rear glow-in-the-dark button uses hard/soft touch technology
Aggressive self-defense face

Specifications

Settings
220 lumens / 110 lumens / 22 lumens / S.O.S. / Defensive Strobe

Runtime
100% – 4 Hours Run Time / Viewing Distance 150 yards
50% – 8 Hours Run Time / Viewing Distance 65 yards
10% – 15 Hours Run Time / Viewing Distance 30 yards
S.O.S. – 72 Hours Run Time / Viewing Distance 150 yards
Strobe – 72 Hours Run Time / Viewing Distance 150 yards

Length – 4.5″
Head Diameter – 1.5″
Barrel Diameter – 1"
Weight – 0.428 lbs.
Batteries – 3 AAA batteries (included)



The Review
Over the years I have bought dozens of flashlights. Especially the cheap alternatives. And every time you need them to work, they fail. This time, I decided to try something better. At one of my local gun shops, they had a Nebo display on the counter. They seemed reasonably priced so I thought I would give them a try. I purchased the Nebo 5620 Redline Select Flashlight for around the house and the Nebo 5581 Redline Tactical Flashlight for my range bag. However, this article will only focus on the Nebo 5581 Redline Tactical Flashlight.
The Nebo 5581 Redline Tactical Flashlight is a high-output flashlight capable of emitting 220 lumens with an MSRP of only $34.99. However, you can usually find it for less than $30 online. Model numbers 5557, 5581 and 5599 are exactly the same product, only the packaging is different.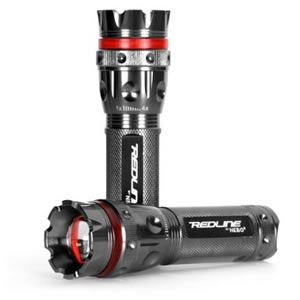 The 5581 has an aggressive self-defense styled bezel face with a rugged anodized aircraft-grade aluminum body was designed to be tough and durable, but it is far from indestructible. Especially when used under the most rigorous conditions. It has been rated to survive a 2-meter fall and a water-resistant rating of IP65.
The power button also acts as a mode selector providing quick and convenient way to choose between the five available lighting modes (100%, 50%, 10%, SOS or Defensive Strobe). At 100%, the 5581 has a runtime of 4 hours providing 220 lumens and is viewable up to 150 yards. At the middle setting of 50%, the 5581 has a runtime of 8 hours providing 110 lumens and is viewable up to 65 yards. At the lowest setting of 10%, the 5581 has a runtime of 15 hours providing 22 lumens and is viewable up to 30 yards. Additionally, both the S.O.S. and Defensive Strobe settings have a runtime of 72 hours and a viewable distance of 150 yards.
The 5581 is equipped a single built-in high-power LED bulb capable of delivering up to 220 lumens and is rated for 110,000+ hours of life. The Convex lens evenly distributes the light without any dull or dark spots. The 4x adjustable zoom bezel twists smoothly when transitioning between the flood light and spot light beams. Once your desired beam is selected it stays put.
There have been some reports describing a gradual permanent dimming effect or flickering, but this does not seem to be a widespread issue and surely nothing that the warranty should not cover. Nebo provides each unit a one year warranty against defects in materials and workmanship. However, the warranty does not cover normal wear and tear.
Final Thoughts
The 5581 provides high performance and durability at a great price. I've had mine for nearly 4 months now and it has been working perfectly. I strongly recommend you take a look at this flashlight for yourself. So far, I have been very happy with my purchase.

About NEBO Tools

NEBO Tools® is a leading supplier of innovative lighting products and tools. We are a division of Alliance Sports Group, a family owned company with headquarters in Grand Prairie, TX. Other product divisions of Alliance Sports Group are NEBO® Sports, Quarrow Fishing Products, PROTEC™ Firearm Lighting, WeatherRite® Outdoor and Bollinger Fitness. Alliance Sports Group is also an official licensee of the U.S. Army brand. Click on the links below to learn more about the Alliance Sports Group family and its divisions.

--