YogaRat SportLite RatTowels Reviewed

Marketing from YogaRat
The Official Towel of the Los Angeles County Lifeguard Association, these thin, featherweight towels are made from super-absorbent microfiber that's impossibly soft to the touch yet extremely durable and fast drying. Sized at 15 3/4″ x 26″ and coming in a two-pack, these stylish, microbe-resistant, 100% microfiber hand towels are the perfect small-sized towel to keep next to your yoga mat, in your golf bag, in your kitchen, or any place a larger towel is unnecessary. Taking up a fraction of the volume of their old-school terry counterparts, these lint-free towels pack ultra-small and use less water and energy when it's laundry time. They're machine washable/dryable (wash cold with like colors only, no bleach or fabric softener; tumble dry), and each towel sports a sewn-in hang hook that makes them a breeze to hang. The RatTowel: towels with a whole new Rattitude.
Manufacturer: YogaRat, www.yogarat.com
Product: SportLite RatTowel

2x SportLite Hand + Face RatTowel: 15.75″ x 26″, MSRP $19.99
SportLite Sport + Bath RatTowel: 28″ x 50″, MSRP $19.99
SportLite Beach + Pool RatTowel: 32″ x 68″, MSRP $29.99
SportLite Beach Blanket: 76″ x 64″, MSRP $39.99

Official Towel of the Los Angeles County Lifeguard Association
Super thin and lightweight yet super-absorbent and fast-drying!
Takes up a fraction of the space of old-school terry towels–when packing/storing and in the laundry
A perfectly placed sewn-in loop for your hanging convenience
The Review
Lately I've been gathering gear, supplies and information for a new article series that I'm putting together on creating a Bug-out-bag system for a small family. To reduce size and weight, I've been looking for compact items. Especially those that can perform more than a single function.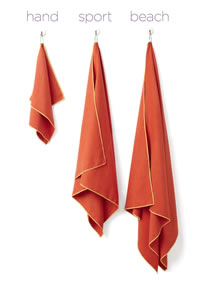 I wanted to include a towel in the packs for washing up and drying off, but not a terrycloth towel. They are far too heavy and they take up a lot of space. Not to mention, they can take a very long time to dry. After some research, I found YogaRat's SportLite RatTowels.
These 100% microfiber towels are extremely thin and very lightweight. Tightly rolled, they only take a small fraction of the space that a terrycloth towel would, and they barely weigh anything at all. The SportLite RatTowels are available in three sizes: Hand + Face, Sport + Bath, and Beach + Pool. The sport towel will compress down into a 2.5″ roll about 7″ long and the hand towel will compress down into a 1.5″ roll about 5.5″ long. Now that is small.
I unrolled one of the sport towels and one of the hand towels to have a look. They were very soft and extremely thin. So thin in fact, that I really couldn't believe they could absorb very much. Boy was I surprised… They are so absorbent, I think a single hand towel could pass for a shower towel in a pinch. I was also surprised at how fast they dry. After thoroughly wringing it out and hanging it up, it was completely dry within 20 minutes.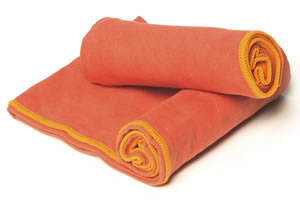 For everyone's benefit, including my own, I have decided to refrain from providing any video or action shots to demonstrate my use of these towels.
I chose to include one Hand + Face towel in each bag in my Bug-out-bag system due to their small size and weight. I figured that since they are so absorbent and dry so fast, the smaller-sized towels could easily handle most any indoor, outdoor or survival situation without taking very much room in the packs.
The Ember/Sun color is the perfect color for signaling in an emergency. It is very bright and should be plenty large enough to draw attention whenever necessary.
Final Thoughts
I am really glad that I found these towels for my Bug-out-bags and outdoor gear. They are unbelievably small and lightweight, yet durable enough to use as a wash cloth, then to dry off after a shower. Don't get me wrong… I would not replace my fluffy terrycloth bath towels at home with them. However, I do like them so much, I plan to pick up a few more to use at the gym and a set of the beach towels for my family to use at the beach.
If you need a lightweight towel that won't take a lot of space in your bag, I recommend taking a look at these towels for yourself.

About YogaRat
Founded in 2008 and based in Santa Monica, California, YogaRat is a yoga-inspired active-lifestyle brand with a mission of realizing the perfect blend of premium quality, affordability, and a distinct "fun factor" in all of our products. We tread as lightly as possible on the environment, using non-toxic and eco-friendly materials and minimal packaging for all our products.

--