United Cutlery M48 Tactical Survival Shovel Reviewed

Marketing from United Cutlery
The ultimate tactical shovel that also doubles as a defensive weapon! Features virtually indestructible, injection-molded nylon handle with 30% fiberglass & nylon reinforcement. The shovel head is made of tempered 2Cr13 stainless tool steel with a hard, black oxide coating. The shovel point edge is sharpened, with a partially serrated edge on one side, and a concave chopping edge on the other. Perfect for camping and outdoors use, light chopping, or for use as a defensive weapon in an emergency situation. Includes a reinforced nylon belt pouch.
Manufacturer: United Cutlery, unitedcutlery.com
Model: UC2979
Overall Length: 16.25″ (41.275 cm)
Blade Steel: Black Oxide Coated 2Cr13 Stainless Steel
Blade Length: 6.875″ (17.46 cm)
Handle Material: Nylon handle with 30% fiberglass reinforcement
Handle Length: 9.25″ (23.5 cm)
Weight: 1.82 lb (29.1 oz)
Accessories: Nylon Belt Pouch
UPC: 760729297944
MSRP: $75.00

The Review
By now I'm pretty sure that just about everyone who has recently considered buying a tactical shovel has seen the UC2979 M48 Tactical Survival Shovel from United Cutlery. It is certainly is mean looking and the stats on it are impressive enough. But is it worthy of that coveted spot in your pack?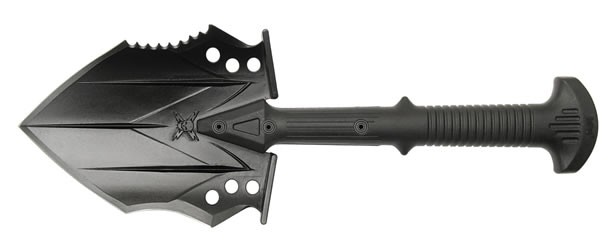 The UC2979 has a partial-tang blade design made from a rugged black oxide coated 2Cr13 stainless steel nearly 3mm thick and reinforced with three parallel ribs for improved strength and rigidity. The tail-end of the shovelhead has a heavy-duty step welded on to each side of the handle and features multiple lashing holes on each side for various carry options.
The blade is 6.875″ long and nearly 6″ at its widest point. Its edge has been sharpened with a deep hollow-grind with a concave chopping edge cut into one side of the blade and a concave serrated edge cut into the other which provides the UC2979 with wide-range of survival, tactical offensive and defensive uses.
The handle is made from injection-molded nylon and reinforced with 30% fiberglass material for added strength and durability. The fixed 11.5″ handle is attached to the shovelhead with three Torx-head bolts through the partial-tang providing the UC2979 with an overall length of 16.25″.
The black nylon belt sheath is plastic-lined, double stitched and reinforced with five rivets strategically placed around the outer edge for enhanced durability. Two belt loops are sewn to the back of the sheath capable of supporting a 2.5″ belt. The shovel is held firmly in place with two hook and loop tabs.
Functional Testing
To put the UC2979 through its paces, I thought I might use it while I'm removing a rather large stump in my yard. The stump was from a good-sized tree about 14″ in diameter at its base. I used the shovel to dig down between the roots and expose them so they could be cut. However, the bulk of the loose dirt was removed using a full-sized shovel.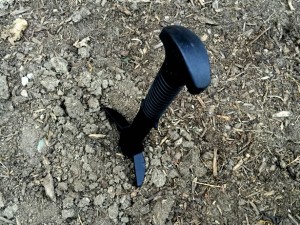 As each root was exposed, I used the side of the blade to chop through them. The length of the handle and weight of the blade provide ample leverage and striking force to cut through the roots without much difficulty. After a few hours, I was able to make it all the way around the stump and it was on its way to the dump.
Next, I began to chop a few of the smaller branches that I had lying around, most between 1″ and 3″ in diameter. I needed to get them cut into a manageable size for easy stacking. The UC2979 continued to perform fairly well on this task as well, although like before it did have a tendency to roll which is likely due to the aggressive blade radius.
After all of the testing that I had put it through, I inspected the blade's edge and did not see any chipping, but I did notice some minor rolling of the edge where I had struck a few rocks earlier while I was chopping through the roots of the stump. However, I was able to straighten the edge out rather easily with a simple field sharpener.
Final Thoughts
United Cutlery's UC2979 is certainly a mean-looking fixed-blade shovel perfectly capable of being used as a tactical offensive or defensive weapon one day and a gardening tool the next. Even though the UC2979 doesn't fold down, surprisingly it doesn't take up much space. Perfect for camping and general outdoor use, although at nearly 2 pounds your milage may vary as to its worth on the trail where every ounce counts.

About United Cutlery

United is well known for our movie prop replicas, fantasy collectibles, our great selection of functional sport and utility knives, traditional samurai swords, and our unique designer knives and swords by Kit Rae and Gil Hibben. Often imitated, but never exceeded, United Cutlery® strives to make our knives and swords to the highest standards in the industry, with superior value, quality, performance, great customer service, and prices that cannot be beat! United Cutlery® sells strictly to wholesale dealers and distributors, but you can find our products at knife and sword dealers worldwide.

--