SOG Prophet Backpack Reviewed

Marketing from SOG Specialty Knives & Tools
For a pack, the SOG Prophet is one that is adaptable to any purpose.
This 33L pack goes from backpack to duffle bag in a snap by stowing the quick-release shoulder straps and hip belt out of the way. Each side of the pack houses lash points for long item carry, compression flaps for keeping the weight of the pack closer to the carrier, and Hypalon MOLLE fields for more external attachment points for extra gear. Accessing the inside main compartment via the Quad-Zip means finding gear from the bottom of the pack doesn't require unpacking everything on top of it. This pack's ease of use and functionality make it one of the most versatile packs available.
Manufacturer: SOG Specialty Knives & Tools, sogknives.com
Model: CP1005G

Material: Kodra 500D Nylon with polyurethane coating
Suspension: 2mm PE sheet w/ 15mm aluminum stave
Colors: Black, Grey
Capacity: 33L

Dimensions: 24.0″ x 11.8″ x 9.0″
Weight: 58.4 oz

Origin: Vietnam
UPC: 729857005593
MSRP: $229.99

The Review
Packs come in many different shapes and sizes, and each with a different purpose in mind. I recently had to take a flight, but I didn't have any luggage, bags or packs that were large enough to carry what I needed, and small enough to use as a carry-on because I really didn't want to deal with the nightmare of having to check any luggage. Thankfully, I was able to get my hands on a 33L SOG Prophet for the trip that would easily fit in an overhead compartment or under the seat. Read on to see how it went…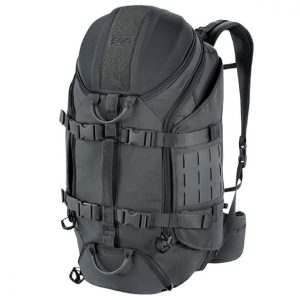 First off, let's talk about the pack itself… It is made in Vietnam from a rugged 500D Kodra nylon fabric with a durable polyurethane coating for long-lasting abrasion, tear and water resistance. While the pack is not double-stitched, the quality appears to be very high. All seams and edges are nicely bias-taped to prevent fraying. The pack is available in both black and grey, making it ideal for daily and multi-day activities, especially when you need to blend in with the crowd. Like all the SOG products, the SOG Prophet is backed by their standard lifetime warranty protecting you against defects in workmanship and materials for the life of the pack.
The SOG Prophet 33L weighs slightly less than 60 ounces empty and features a unique adaptable design whereas it can be rapidly converted from an internally-framed backpack to a duffle bag and back with a few quick and easy steps. The padded shoulder straps are completely adjustable with, each with a 3/4″ nylon-webbed strap located at the top of the pack for adjusting the ride height of the pack, and a 1″ nylon-webbed strap with a quick-release buckle located near the bottom of the pack to easily adjust the tension on the of the shoulder strap. Each strap includes a metal D-ring, a Hypalon zinger tab and a nylon-webbed lashing point to attach additional items that require easy access like a drinking tube.
The quick-release sternum strap provides additional pack stabilization that can be easily adjusted simply by sliding the two attachment points up and down along the shoulder straps as well as the tension adjustment for the nylon-webbed strap at the buckle. The buckle also features a small whistle molded right into it so it is always within reach, provided the pack is on your back. All straps around the pack also include an elastic loop for better management of the excess strap material.
The SOG Prophet's 1.5″ adjustable nylon-webbed waist strap is easily long enough to accommodate most waistbands and features a padded back and hip pad that is attached directly to the pack's integral suspension system for improved stability and comfort. This feature allows the wearer to easily redistribute much of the pack weight from the shoulders to the waist for better load distribution, thus reducing fatigue over long treks.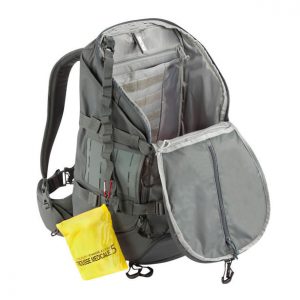 The back of the pack consists of a padded layer spanning the entire backside of the pack that covers the suspension system and seconds as a pocket to stow the shoulder and waist straps when they are not in use. This confines and protects the straps for easier transport when the pack is used as a duffle bag. Fully expanded, the SOG Prophet is 24.0″ x 11.8″ x 9.0″ so it will easily fit in most carry-on bins and under seat compartments making it ideal for air travel.
The lightweight integral suspension system consists of a semi-rigid 2mm contoured polyethylene sheet spanning the entire length and width of the pack with a sturdy 15mm aluminum stave running along the center of the sheet for improved stability. The suspension system is tucked neatly inside a thin zippered pocket located along the entire backside of the pack's main compartment.
Immediately in front of the zippered suspension system compartment, there is a large internal hydration/laptop pocket with a reinforced hook and loop strap designed to hold a hydration bladder securely in place and a weather-resistant pass-through port allowing the drinking tube to safely pass through the pack wall for easy access. The outside of the hydration/laptop pocket is lined with a reinforced MOLLE loop field providing a secure surface for various custom concealed carry and organizational pouch options. Additionally, there is a removable 3/4″ nylon tether with nine 1″ diameter loops daisy chained to provide easy access to attached gear attached no matter how deep in the pack it sits.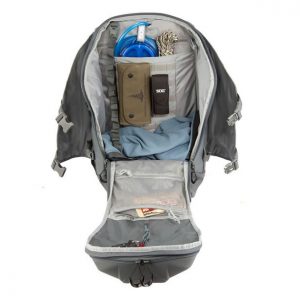 The hydration/laptop pocket is barely large enough to accommodate a 15″ Macbook Pro or 3-liter hydration bladder, but the opening is tight. As a result, getting the laptop in and out of the pocket quickly is not as easy as it should be, especially if you are traveling through TSA checkpoints. Additionally, there should be some type of hook and loop or zippered closure to prevent whatever you are storing in the pocket from falling out.
The main compartment nearly encompasses the entire volume of the pack with the exception of the top and bottom pockets and a few internal organizational pockets so there is plenty of room for your gear. There are two 7″ x 5″ mesh fabric organizational pockets with zippered closures attached to the main compartment flap closure and a 10″ diameter zippered pocket on the bottom side of the lid. Access to this compartment is provided by a Quad-Zip design with extra-long zipper-pulls allowing both full or partial access to the compartment. With this design, you can easily access either side of the main compartment or open the compartment entirely from top to bottom for full access.
I was able to fit everything that I felt I might need and then some for my three-day trip. In addition to my laptop, a pair of shoes, a fleece pullover, general travel toiletries, an airline-approved first aid kit, a large schmaugh, an AQUAOVO Globetrotter water filter and quite a few snacks, I was also able to fit three pairs of slacks, a pair of shorts, two dress shirts, three t-shirts and four pair of underwear with a little room to spare. However, in order to get it all to fit without causing a wrinkled mess, I simply Googled 'Wrinkle-Free Packing' and followed the video demonstrations closely.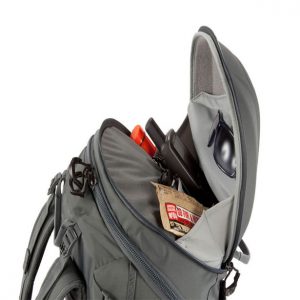 The top pocket on the SOG Prophet is capped with a semi-rigid impact-resistant shell made from a closed cell EVA foam designed to protect any delicate items like cameras, portable electronics and glasses stored inside. The shell also has a 3″ x 8″ field of loop for hook-style morale patches and the like. The top pocket also sports two zippers with the extra-long zipper pulls for easy access. Inside, there are six internal organizational admin pockets and a large pocket on the underside of the lid with a hook and loop closure.
The large front-access mission pouch is located at the bottom of the pack. It is lined and shares the the same real estate as the main compartment much like common gym bags. It is ideal for packing shoes and gear you wish to keep separate from gear in the main compartment.
On each side of the pack, there are two 3/4″ quick-release compression straps approximately 10″ apart and a length of looped lash points down each side for securing long gear like sleeping pads, poles, etc. To further compress and secure the load, there is a rugged compression flap with two 1-1/4″ quick-release straps approximately 7″ apart. Lining the outside of each of these flaps is a small 5″ x 5″ field of Hypalon MOLLE lash points to attach additional organizational pouches and gear. Hypalon MOLLE is a sleek-looking water-resistant and highly abrasion resistant laser-cut MOLLE panel often considered to be stronger than traditional MOLLE webbing.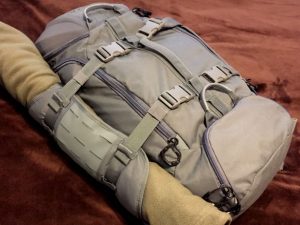 Located at the top of the pack, and on each of the two ends, there is a 7″ rubber-coated handle for easy handling of the pack, and a larger nylon-webbed handle along the center of the pack for handling the pack when it is used as a duffle bag. On each side of this handle, there are two loops for lashing additional gear.
The contoured frame provided plenty of stability and support, especially with the pack fully loaded. The padded waist belt provided plenty of lift and support, keeping the bulk 18-pounds of gear and clothing off my shoulders. The padded shoulder straps were very comfortable, even when the waist belt was not being utilized. There were times in the airport when I had to move quickly, and this pack made it not only comfortable, but very easy to do so.
Final Thoughts
SOG gear is always top-notch, and the SOG Prophet 33L backpack is no exception. It is incredibly sleek looking, extremely versatile and built to last. But it is also very expensive. I love that it is not overly tactical-looking allowing the wearer to blend into a crowd like a grey man. And it is ideal for air travel as a carry-on bag provided you don't keep your laptop stowed in the tight internal pocket.
I felt that this pack was sized perfectly for all day and short multi-day hikes when you don't need to bring along a lot of gear, like you might need in cold weather. A larger 50-85-liter pack would be much more suited for that. On the other hand, I also felt that this pack was a bit too large to be used as an EDC pack. Plus, the pocket configuration really isn't ideal for that kind of use anyway.
So if you are in need of a rugged transformative mid-sized pack that looks great and can easily stow away in overhead or under seat compartments, then this pack is definitely for you!
You can find this pack and other SOG gear here: http://amzn.to/2fzK6sb

About SOG Specialty Knives & Tools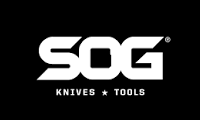 Our story begins in Vietnam, where members of a highly classified US special ops unit – known as MACV-SOG – carried a unique combat knife into the jungle on covert missions. Years later, in 1986, that knife inspired a young designer, named Spencer Frazer, to found SOG Specialty Knives. His mission: to reproduce the original SOG Bowie knife and pay tribute to the special ops unit that created it. What began as a single commemorative model soon became a full line of innovative tools – field-proven by US Special Forces, even honored as the Navy SEAL knife of choice. Today, SOG knives are carried with confidence into the most demanding situations. Forged out of tradition, hardened in the field, honed for you.
So whether you're protecting others or leading an epic hunting expedition, tackling one of life's everyday challenges or facing your most extreme conditions yet, lead the way with SOG.

--