Serg If – The Knifemakers Series

Knifemakers From Around the World
For the fifth installment of Knifemakers From Around the World we will be talking with the western Ukrainian artisan and knifemaker, Serg If. He is known for his incredible mosaic Damascus steel blades with beautiful handcrafted handles and leather sheaths where he frequents many of the custom knifemaking groups on Facebook. It is a real treat to finally meet Serg and talk with him about his craft. Therefore, it is my pleasure to introduce Serg to you…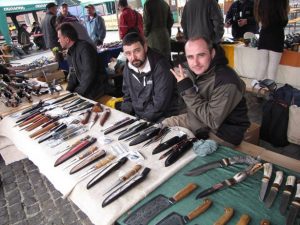 Sergiy Bogutskyj, AKA Serg If was born in 1978 in the small town of Burshtyn located in Western Ukraine back when it was a part of the USSR. As a young child, Serg liked to read. He especially liked to read adventure literature about knights, pirates, travelers, Indians, etc. He was fascinated by the feats, discoveries, metal armor, tournaments, matches, honor and the shine of cold steel! Surely this romance with the medieval era was the beginning of his life's ambition and present-day occupation.
Serg made his first knife about 1994 with no formal training, armed only with the information he had seen over the years and what material he could find. As time went on, he purchased various books and magazines on metallurgy and knifemaking, and visited many museums, exhibitions, festivals and blacksmith demonstrations where he studied intently to further develop his knowledge and skill.
After graduating from school, Serg moved to the historic city of Ivano-Frankivsk, located deep in the heart of Western Ukraine where he went on to achieve a Bachelor of Thermal Engineering and a Master of Metrology at the Ivano-Frankivsk National Technical University of Oil and Gas, graduating in 2002.
Prior to 1962, Ivano-Frankivsk was known by its Polish name of Stanislawow (Stanyslaviv). Originally, it was a fortress constructed to protect the Polish-Lithuanian Commonwealth from Tatar invasions and to reinforce the region. It was later established as a city by Polish nobleman Andrzej Potocki on May 7, 1662 so it has long medieval history. As time went on, many local communities were incorporated into the city as new districts until finally becoming the western Ukrainian regional administrative center. On the city's 300th Anniversary, its name was changed to to Ivano-Frankivsk in honor the Ukrainian writer Ivan Franko.
His early knives were made with only a minimal set of tools. Nothing more than a grinder, screwdriver, a small belt sander and a desire to learn to make knives with his own hands. The blades themselves were made by master bladesmiths that he purchased, then finished with his own touches. But more recently, he started making and heat treating many of his own blades.
In 2008, Serg found the Internet where he became involved in several online knife forums that offered him the opportunity to acquire knowledge directly from experienced artisans and blacksmiths firsthand. He was able to study their work closely while giving back by sharing his own knowledge and ideas with others. By 2010, he had made a little and lost a little selling knives that he had made, but at least he was enjoying the hobby.
After graduating from the university, Serg held various engineering and management positions in municipal heat and power industry for a number of years as he built a home, had a son and continued to learn and develop his knifemaking skills. Although, at this point, it was still only a hobby. By 2015, Serg had made about a hundred knives or so and was actually starting to make some money selling them. But everything changed with the birth of his second son. He felt that he didn't have any time left to do the things that he loved to do, and realized that something needed to change. Since the work took the most time out of his day and brought the least enjoyment, he decided to follow his true passion and become a full-time knifemaker.
Serg spends a lot of time in online forums and at local exhibitions, fairs and festivals where he meets and spends a lot of time visiting with many artisans, smiths and knifemakers. Since he does not have his own forge yet, he collaborates with other smiths often. In fact, much of the mosaic Damascus that he uses in his knives was forged by his good friends Verizhnykov Gregory and Sergiy Buyniak. He still shares a studio with two of his close friends where people often come by for information, materials, or just to have a cup of coffee.
Since Serg was young, he has always been intrigued by medieval culture, so later in life he began to participate in medieval reenactments at the exhibitions, fairs and festivals that he attends regularly. The events are often arranged at historic sites including those of ancient castles and fortresses. Sometimes the events go on for multiple days with participants living in tents.
Participants are often in costume as they portray the life and times of the era, even participating in the musical and theatrical acts. Most of the costumes consist of handmade clothing, footwear and household items, made from materials that were used at that time. Much of the art and other items for sale have are handcrafted. Serg produces a wide variety of medieval weapons, footwear and other leather items for sale at these events. Some of the bigger festivals include jousting, archery competitions, costume contests, dancing, war reenactments like storming a castle or fortress, ancient craft classes and of course lots of other fun and games.
Be sure to drop by Serg's Facebook page to follow him and check out his recent work.
And now for a little Q & A…
What is your full-time gig?
Currently – knifemaking.
What is your Every Day Carry?
For small problems, an old school folder. For larger, a custom fixed blade knife made by a local Ukrainian artist which is the club knife of one of my favorite knife forums.
What are some of your favorite knives and knife styles?
I like different types of knives in many different styles. Right now I most often work with the Scandinavian style, and sometimes make European classics. I am also very interested in the medieval time in history and the knives from that era.
How would you best describe your style?
Knives with character and soul. I try never to make two identical knives, and I put my heart and soul into every one. They may not always be perfect, sometimes even primitive, but they are always charismatic with a twist.
Do you make anything other than knives and sheaths?
Besides making knives and sheaths, I have two children. We built our own home and grew a garden. In addition, I often visit historical festivals, travel, and I like to go fishing.
Where do you sell your wares?
Mostly I sell my products at various festivals and exhibitions, with some over the Internet through Facebook groups. More recently, I have been making knives to order for customers who find me.
What was your favorite design project?
All of my work is my favorite, because in each of them I put my labor and all the knowledge I had at the time. Using all its possibilities. That's what I call soul! After looking back at old projects now, I can see how I would have done them better, but any changes in them I have not made. They are as good as they are.
What are you currently working on?
Right now I am working on a large Scandinavian style knife with mosaic Damascus, walrus tusks and stabilized curly Turkish walnut burl as well as a few simple knives with some random Damascus.
What is your most popular design?
My most popular design is a small Scandinavian knife with a wooden hilt and a small insert with other material. I do them probably the most. But at the same time, they are slightly different details, shapes, sizes, materials.
What is your design process?
Designing a new product starts with a conversation with a client, or they visualize their own plan. We discuss the style, size and materials. Then I draw a sketch, simple, rough to show the client the approximate shape, appearance knife. Further work define my sense of touch, the appearance of product. Sometimes the materials used make adjustments for final result.
What are your favorite materials to work with and why?
My favorite materials are those that "live", with its own history, or the soul of another master. I like to use mosaic Damascus blades in which a master blacksmith puts a lot of time, work, and most importantly, their knowledge and skills.
For handles, I use a lot of precious woods and interesting pieces of conventional wood like curly grain that are often stabilized. I also like to use materials of animal origin, especially those with a historical value like walrus tusk, mammoth, mammoth tooth, oosik, amber and bog oak. It is a huge pleasure to work with them. They are all creative and look great on finished products.
What do you like most about making knives?
Most of all I like shaping the knife and handle. For me this is a birth of a knife. At that stage I put the product in the most positive energy. It's like a sculptor – cut off the excess and gradually had manifested in finished product.
What do you like least about making knives?
The least enjoy the monotonous mechanical movements. The repetitive operations where there is no visible progress. For example re-polishing of a blade with different abrasives.
What equipment do you use most while you are prototyping?
In my work I often use the grinder, drilling machine, fret-saw machine, mini rotary tool and a stove for the heat treatment.
What hand tools do you use most?
Among equipment there are a lot of hand tools, saws, files and rasps, sandpaper and rasp files, hammers, pliers, screwdrivers, various clamps and vises.
Who are your favorite knifemakers and bladesmiths?
Among my favorite artists are Gerhard Wieland, Tony Karlsson, Tobbe Frejd, Roman Stoklasa, Conny Person, Chad Nichols, Charles Bennica, Andre Andersson and many others.
Who in the industry has influenced you the most?
I like a lot of knives. I am influenced by eminent artists and those not so famous. I try to adopt the best features of other masters and implement them in my projects. Sometimes it is difficult to remember where I saw it before.
Which industry shows do you attend?
I regularly participate in the show "Steel Edge", the International Blacksmith Festival "SVIATO KOVALIV" and many other historic festivals. I've also visited many European knife shows in Helsinki, Solingen, and I've participated in various exhibitions in Poland, Czech Republic, Lithuania and Ukraine.
It seems like many knifemakers are always working to learn some new skill. What new skill are you learning, or you are just working on getting better at?
During my mastering as knifemaker I learned many different skills and abilities. And there are many different skills I would still like to learn. Right now I am mastering various techniques of decorating knives like carving, scrimshaw and inlay.
What was the hardest lesson to learn related to knife making?
The most difficult for me in this craft is patience and the performance of job that I do not like.
What advice would you give someone trying to get into knife making?
I would advise beginners one thing… Not to give up if something does not work. This is not very easy and requires a lot of work before they are pleased with the results of their labor.
Do you have any tips that you can share?
I am always happy to share my knowledge and skills. But there is no universal advice… If someone has any specific questions about the making of knives, please contact me on Facebook or via email. Always willing to help if it would be my opportunity!
Thank you very much Serg, for spending some time with us and sharing your story.
Don't forget to drop by Serg's Facebook to follow him…
 
All photos were provided courtesy of Serg If.


--