Schrade SCHF9 Extreme Survival Knife Reviewed

Marketing from Schrade
When you're in the market for an Extreme Survival knife, you can't do better than Schrade SCHF9 knife. Schrade Knife owners know how versatile these single-, double-, and triple-blade Schrade knives are. That's why they've remained popular with both young and old for decades. Chances are the folding blade your grandfather carried was a Schrade knife, and now you can have one of your own.
Timeless in style, distinctive in appearance and durable enough to span generations, the new Schrade knife you buy today can become an heirloom you pass down to your child. Every Schrade knife you purchase is backed by a Limited Lifetime Warranty against any manufacturing defects.
The Schrade SCHF9 Extreme Survival fixed blade knife features a thick 6.4″ 1095 high carbon steel full-tang blade with easy-to-grip Kraton handles. The Nylon sheath is lined with Kydex and has a pocket for storing small items. Extremely heavy-duty, well-made knife at a great price!
Manufacturer: Schrade, www.schrade.com
Model: SCHF9
Overall Length: 12.1″ (30.7 cm)
Blade Steel: 1095 High Carbon Steel full-tang blade
Blade Length: 6.4″ (16.2 cm)
Handle Material: Ring Textured TPE Handle
Handle Length: 5.7″ (14.5 cm)
Weight: 15.9 oz.
Accessories: Nylon sheath, lined with Kydex
Warranty: Limited Lifetime Warranty against any manufacturing defects
MSRP: $66.66
UPC: 044356220552

The Review
In the midst of gathering gear and supplies for a new article series that I'm putting together on creating a Bug-out-bag system for a small family, I've had the opportunity to try out some cool new gear as well as some oldies but goodies. To reduce weight, one of the items that I was hoping to find was a fixed-blade tough enough to handle anything from heavy bushwhacking to fine bushcraft techniques like shaping supports for a shelter, making a feather stick or batoning some logs into kindling. Lately, I've been hearing a lot about Schrade's SCHF9 Extreme Survival Knife so I thought I'd give it a try. Let's see how Schrade's SCHF9 Extreme Survival Knife will stand up to the challenge…

Initial Thoughts
With an overall length of just over 12″ and a stout 1095 High Carbon Steel full-tang blade that is nearly a quarter-inch thick, the SCHF9 sports a pretty tough look and feel. Not Rambo tough with a 24″ serrated blade, 3″ spikes and row of saw teeth along the top edge… But who needs something like that anyway? At 15.9 ounces, the SCHF9 feels like a solid hunk of quality steel and it looks like it could stand up to quite a rigorous beating as well.
While the blade is coated initially, with normal use the blade could begin to rust if you fail to properly care for the knife. Additionally, I was a little disappointed that the grind angle on the blade's edge was more than just a little off from side-to-side. Actually, it was not even close. I measured as much as 3mm off at one point on both of the knives that I had received. I found quite a few complaints on the Internet related to the same issue so I know the issue is far more wide-spread. I think in this day and age, even a $40 blade should have a tighter machine tolerance and better quality control.
The TPE handle includes a durable textured ring pattern which adds a firm non-slip grip to the knife, even when wet. One thing I'd like to note, the handle has a palm-swell that is quite large. This is might be a perfect fit for those with larger hands. But for those of us with smaller hands, I found it to be a little uncomfortable for my taste.
Even with the minor things that bothered me about the blade, I am still quite impressed with this knife thus far.
Features
Now let's focus on the SCHF9's features in more detail…
The Blade
Schrade's SCHF9 is a medium-to-large knife with an overall length of 12.1″, a blade length of 6.4″ and a weight of 15.9 ounces. There are some very interesting design characteristics that are particularly important with regards to this blade:

The SCHF9 is made from a single piece of 1095 High Carbon Steel running throughout. This full-tang design provides all of the strength and rigidity that you would expect from a good survival knife. 1095 High Carbon Steel is a popular tool steel that is much harder than most other steels and stainless steels so it tends to hold an edge much longer, making it an excellent choice for a survival blade. Not to mention, it is typically easier to sharpen steel blades than stainless blades.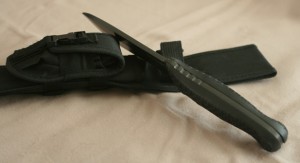 While the 1095 High Carbon Steel and full-tang blade design can really take a licking and still hold its edge, it is also susceptible to rust without proper care and maintenance. Even with the protective Teflon coating. By keeping the SCHF9 dry and lightly oiled when not in use, it just might last you a lifetime. The strong blade and blunt tip are thick and heavy-duty, yet well-balanced making it ideal for chopping, prying and digging without any worry of breaking the tip. As a result, the SCHF9's stout point is not well-suited for situations where piercing objects would be a necessity.
The SCHF9 has an attractive drop-point edge with a slight recurve and blunt tip. The blade is ground with a deep high-flat grind and a slight compound bevel without any serrations. This is a very common grind on factory knives today. The shape of this blade provides a bit more leverage perfect for heavy bushwhacking tasks like chopping and lighter bushcraft techniques like carving and shaving sticks. Unfortunately, it can be somewhat challenging to sharpen with a stone due to the inward curve (or recurve) at the base of the drop-point. The Smith's PP1 Pocket Pal Multifunction Sharpener or Lansky PS-MED01 BladeMedic are perfect for providing a quick edge when in the field. However, they tend to leave striations down the length of the blade which are likely to cause it to dull much faster, as opposed to perpendicular striations that are left by most stone sharpening methods.
The Handle
The SCHF9's TPE handle is a hard, durable rubber with an aggressive ring pattern providing an excellent non-slip grip even in wet conditions. Thermoplastic elastomers (TPE), sometimes referred to as thermoplastic rubber is made from a mix of plastic and rubber polymers providing both thermoplastic and elastomeric properties. The handle was made with a large palm-swell making it easy to hold on to with or without gloves, especially with larger hands. However, the large swell is not so large that someone with small hands could not wield it.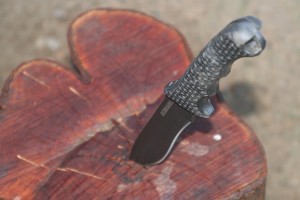 The two halves of the TPE handle are attached through the full-tang blade with four recessed allen bolts threaded directly into the knife steel allowing it to absorb much of the shock when chopping or batoning, thereby reducing fatigue. On the handle, there are three finger cut-outs and tapered ends in addition to five notches located on the top of the handle which provide a variety of gripping options.
There is a large finger choil in front of the fingerguard providing more control over the blade for fine work like whittling notches or shaving sticks. The end of the SCHF9's handle also has a lanyard hole at its base sized perfectly for a paracord strap and can be used for light hammering in a pinch.
The Sheath
The SCHF9 comes with a sheath made from a heavy Nylon material. It is stiff and most of the seams are double-stitched. The SCHF9 fits snugly into the Kydex lined pocket and is held firmly in place with an adjustable retention strap. The Kydex lining is fixed in place with rivets so the sheath is really configured for right-hand carry only.
On the front side of the sheath, there is a small removable pouch that can be used to store essentials you'd like to keep handy like a small fishing kit, Ferro Rod, waterproof matches or even some paracord.
At the top of sheath, there is a sturdy Velcro belt loop making it easy to get on or off quickly and should fit most belts through 2.5″. Additionally, there is a strap provided to attach the lower-end of the sheath to your leg. It comes standard with a light nylon rope, but some paracord would certainly be a good improvement.
On the backside of sheath there is a single mollie-type strap for attaching the sheath to a backpack or other equipment.

Functional Testing
Now let's see what the SCHF9 can do… In order to provide a some sort of apples-to-apples comparison between blades, I will be performing five durability tests; Batoning, Chopping, Feather Stick, Tip Strength and Edge Retention. In a survival situation, all resources are fair game. However, since I am not in a life-or-death situation, I'll stick to some dead wood that I have lying around for these tests.
Batoning

Per Wikipedia: Batoning is the technique of cutting or splitting wood by using a baton-sized stick or mallet to repeatedly strike the spine of a sturdy knife, chisel or blade in order to drive it through wood. The batoning method can be used to make kindling or desired forms such as boards, slats or notches. The practice is most useful for obtaining dry wood from the inside of logs for the purpose of fire making.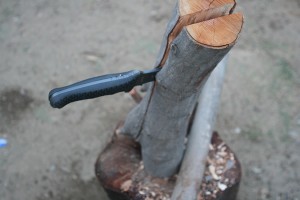 To test the SCHF9's ability to be used with a baton, I found a stick around 2″ in diameter by about 18″ long for my baton and a few logs around 4″ in diameter also about 18″ long to hack into kindling. I placed the first log on its end and began to whack both sides of the SCHF9 evenly with the baton. It went through the entire log with ease. Very little effort was necessary to split the log from end-to-end.
I repeated the test a few more times by splitting the log into smaller and smaller pieces, and then again a few more times with similarly-sized logs. The SCHF9 and baton made the job much easier than I initially thought it would be. I have to say, I was thoroughly impressed.
Chopping
Next, I decided try my hand at chopping some long branches into a manageable size which would be necessary for building a shelter or creating a stockpile of firewood to get through the night. At nearly one pound, the SCHF9's weight provides a lot of force when striking. By griping the SCHF9 at the flared end of the handle with your thumb and forefinger, you can extend the radius of your swing providing even more force when chopping. If you do need to swing the blade for any length of time, I thoroughly recommend wearing gloves to protect your hands and absorb some of the shock.
The SCHF9 made quick work of smaller branches 1-3″ in size. But it could certainly be used to chop larger material with a bit more effort. However, I think at that point a hatchet or small axe would be far better suited.
Feather Stick

Per Wikipedia: A feather stick (sometimes referred to as a fuzz stick) is a length of wood which is shaved to produce a head of thin curls protruding from the wood. It is used for damp wood to start a fire (or campfire) when dry tinder is hard to find.
Finally, I thought making a feather stick would be in order.
For this test, I used a stick about 2″ in diameter and a little shy of 18″ long. I began taking short 2-3″ strokes along the bottom-end of the stick creating finely shaved curls otherwise known as "feathers". I found the recurve area just behind the recurve of the blade to be the sweet-spot for feathering the stick.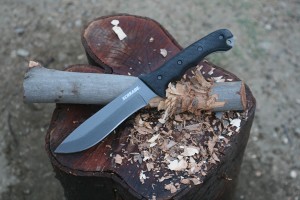 As I continued my way around the stick, I was careful not to shave the curls too long or dig too deep causing them to break off. After a few minutes of working my way up the stick, I had a perfect feather stick to start a fire.
Tip Strength
To test the SCHF9's ability to stab or pierce without the tip bending or breaking, I drove the tip of the blade into the end of a 12″ stump as hard as I could, and then I used a baton to drive it a bit further. Afterwards, I loosened the blade using a side-to-side motion until it was loose enough to pull out. I repeated this action four more times without any sign of damage to the tip. The SCHF9 has such a stout tip and blade, it seemed virtually indestructible.
Next, I used the SCHF9 to bore a cone-shaped hole into the side of a small log approximately 1″ in diameter and about 3/4″ deep by twisting the blade until the hole was completed. The SCHF9 performed this task without any issues at all.
Edge Retention
Even after all of the other functional tests, the SCHF9 sliced through a single sheet of paper, though it likely would have sliced easier had it been sharper from the start. My testing left no sign of cracks, chips or imperfections of any kind with the exception of some slight wear on the blade's protective coating. The SCHF9 held its edge and remained very sharp through the entire process, even with all of the punishment that I threw at it.
Final Thoughts
Schrade's SCHF9 is a heavy-duty survival knife designed to work hard and get the job done at an excellent price-point. Just shy of one pound, the SCHF9 is sturdy enough to make quick work of overgrown foliage, small tree limbs and a variety of other basic survival tasks. While there are certainly more productive alternatives out there for heavier bushwhacking tasks. The SCHF9's durability, medium-size and weight make it ideal for most survival packs and wilderness situations.
The SCHF9 can be found most anywhere for right around $40. If not for the issues with the grind angle on the blade's edge and the large palm-swell, I would like to have one of these in my gear bag for sure. While I would prefer a smaller palm-swell, I could certainly learn to live with the larger palm-swell if I had to. In fact, I still might get one anyway. But, for now I think I will wait to see if they correct the grind angle issue first.
So the bottom-line… if you don't mind the blade's slight imperfection, or you choose to correct the grind angles yourself, Schrade's SCHF9 is an impressive survival knife that is built to last at a terrific price. At only $40, it might be nice to have a few of these stashed around the house and in survival packs.

You can find this and other Schrade products here: http://amzn.to/2c0kjZF

About Taylor Brands and Schrade Cutlery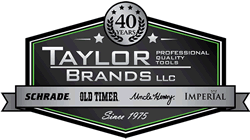 Founded by Stewart Taylor in 1975, Taylor Brands has been manufacturing, designing, and distributing high-quality stainless steel cutting tools and accessories since our inception. Taylor Brands owns and produces Schrade, Old Timer, Uncle Henry, and Imperial branded products, and are also licensed to produce multiple product lines under the world famous Smith & Wesson brand. In total Taylor Brands manufactures several hundred different products including fixed and folding knives, collapsible batons, tactical pens, handcuffs, tactical and survival accessories, and flashlights.

--