Remington Model 597 Reviewed

Marketing from Remington
The Model 597™ is easily the most advanced autoloading rimfire rifle ever built, and the most technologically advanced breakthrough in autoloading rimfire rifle technology in 35 years. The difference starts with our proprietary bolt-guidance system, which features a unique set of twin tool-steel guide rails for better stability, feeding reliability and greater out-of-the-box accuracy.
Of course, we didn't stop there. The bolt, hammer and sear of the Model 597™ all feature an exclusive nickel-Teflon® plating for smooth, dependable operation and an ultra-crisp trigger pull. To assure reliable, long-term accuracy, we've also incorporated a unique positive-locking, permanently rigid barrel attachment clamp. Receivers are grooved for standard rimfire mounts and tapped/drilled for Weaver-style bases. Completing the breakthrough design are an innovative last-shot "hold open" magazine feature and our patented, easy-to-use staggered-stack magazine.

Manufacturer: Remington Arms Company, www.remington.com
Model: Remington Model 597
Action: Semi-automatic/Autoloading
Caliber: .22LR
Finish: Blued Steel
Stock: Synthetic Stock
Sights: Adjustable iron sights, standard rimfire mount grooves, drilled/tapped for Weaver-style bases
Barrel Length: 20″
Overall Length: 40″
Weight: 5.5 lbs.
Capacity: Detachable magazine, 10 rounds
MSRP: $204.00
The Review
When I first saw the Remington Model 597 in the .22LR configuration, I was very impressed by its simplicity and clean design. The Model 597 has proven to be a fierce competitor to two other very popular .22 caliber autoloader firearms: the Ruger 10/22 and the Marlin Model 60, as well as numerous other competitors in this space. The Remington Model 597 is also available in both a .22 Magnum and a .17 HMR configuration. There are many stock variations and colors available, though we are only looking at the standard .22LR model here.
Features
The Remington Model 597 we are looking at today is equipped with a sleek-looking synthetic stock and a non-glare matte finish that some might find plain and less than appealing. The forend is tapered and quite comfortable. The synthetic stock is very lightweight, rigid and durable, no doubt contributing to its accuracy.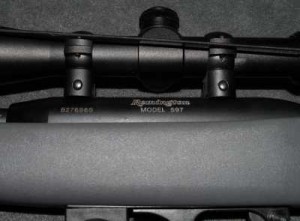 This model weighs in around 5.5 pounds with an overall length of 40″ and comes standard with a free-floating 20″ barrel that balances out the rifle nicely. However, heavier barrels and 16″ barrel lengths are available with other models. The barrel is attached to the receiver with a unique, rigidly joined, positive-locking clamp for perfect alignment and enhanced accuracy.
The Model 597 is fitted with adjustable iron sights and comes grooved for a standard Rimfire scope in addition to being drilled and tapped for a Weaver-style scope mounting kit. Studs for detachable sling swivels are also supplied.
The one-piece, polymer trigger guard/magazine well assembly incorporates a simple push-button style cross-bolt safety located at the rear of the trigger guard that blocks the trigger when applied. A key that can lock the safety to keep the rifle from being used without permission is also provided. However, it is never a good idea to rely solely on the safety lock to prevent unauthorized use.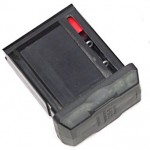 The magazine latch is quick and easy to access. It is located on the right-side of the firearm, just in front of the trigger guard. Simply slide the catch back to drop the magazine, which falls freely from the magazine well. The Model 597 comes with a staggered detachable metal box style magazine that is capable of holding 10 rounds, with higher capacity magazines available. For additional convenience and safety, the Model 597 provides a last-shot "hold open" bolt.
The bolt, hammer and sear feature the exclusive Teflon/nickel-plated finish for an ultra-smooth operation. The Model 597 also includes a unique bolt-guidance system. The twin, tool-steel guide rails run alongside the bolt should greatly reduce friction and eliminate much of the wear that most blow-back operated autoloaders experience.
Functional Testing
Upon close inspection of the magazine, I noticed Remington uses plastic lips to hold the cartridge in place instead of metal lips. The magazine is not difficult to load. However, the more rounds I added to the magazine, the spring and guide were not able to keep the rounds in proper alignment and the last two cartridges required a little extra force to load. Once I limited the magazine load to five or six rounds, the action began to cycle properly through the rounds without issue. As a result, I think I really need to try a new magazine to see if this one is defective or just a weak spring. There are 30-round magazines available. However, the ridiculous laws here in California prevent me from obtaining one to try out.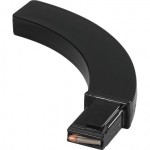 The trigger-pull was smooth, short and crisp, but a little too heavy for my taste. The trigger pull measured approximately five pounds on the digital trigger scale. Thankfully, a simple polish and de-burr of the trigger components by a qualified gunsmith would remedy the heavy trigger-pull. However, there are a few after-market components available from 3rd-party vendors. Volquartsen Custom seems to be a popular vendor with Model 597 enthusiasts. Volquartsen makes a fully-machined Target Hammer which boasts a 50% lighter trigger pull than an unaltered stock trigger and an Exact Edge Extractor with a precise hook point claiming better cartridge extraction than other extractors available.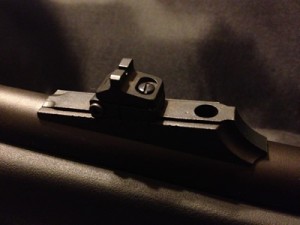 I found the sight adjustment of the Model 597 to be extremely lacking. To adjust elevation, you need to loosen a small allen screw located on the right side of the rear-sight bracket which holds the rear sight in place. Once it is loose, you can slide the sight forward or back depending upon your need, then tighten the screw to lock it back down. As for the windage, you need to loosen a flat-head screw located on the top of the rear-sight, slide the blade left or right and then tighten the screw to lock it back down. This process is clumsy and far from precise. I wholeheartedly recommend swapping the sights out with a third-party sight like the Williams FireSight or the Adjustable Aperture Sight from Tech-SIGHTS. Another valid option would be use a scope instead.
With the removal of a couple of 1/8th inch allen screws located on the botton-side of stock, the entire barrel and action will lift out the top of the stock. Further disassembly is done by removing a small pin holding the trigger guard/magazine well assembly to the receiver. At this point, the firearm is open and very easy to thoroughly clean. I was surprised at how simplistic, yet functional the innards of this weapon actually are.
Accuracy Results
So now lets get down to my favorite part of the review… Testing the firearm's accuracy.
While I would have liked to test this firearm at an outdoor range where I could have tested the accuracy at both 50 and 100 yards. Today I will be using of my local indoor range, limiting the testing to 25 yards. However, at some point I would like to update this review after I make it to an outdoor range.
For the first accuracy tests, I will be using a fresh 333-round box of Winchester ammo. I spent quite a few magazine loads just getting a feel for the trigger, action, weight, stock and iron sights. I spent a lot of the time fumbling with the magazine trying to get it to feed consistently. This was when I realized that when loaded the magazine with only five rounds it cycled just fine.
Once I felt comfortable enough with the rifle, trigger and action, I began to shoot at the 4″ targets set at a distance of 25 yards with only 5 shots per group. I was not happy with the consistency of my grouping at all. I was surprised that I could hardly keep a group inside a 2″ diameter circle. Maybe if I did not have so much trouble with the magazine with more than five rounds, I would have tested using this ammo a bit longer. And who knows… Maybe I would have shot better too.
The final set of tests were performed using a fresh Remington 22 Thunderbolt bulk ammo that I purchased recently. The smoke cloud was thick, but I was really surprised at how much more consistent the delivery actually was with this ammo. I was able to tighten the groups down to a little less than 1.5″ at the same 25 yards.
Final Thoughts
I realize that I've got to get to an outdoor range and find some better ammo to test with… But at only 25 yards, I felt I should have been able to hit a 1″ diameter or smaller groups from this rifle. I find it amazing just how much of a difference good ammo can make. I will surely try this one out again, next time with a scope and better ammunition to see if I can improve on the accuracy.
As with any firearm, you do need to keep this one clean and well oiled for years of reliable operation. Including the magazines. I still feel that the magazine that I tested with was defective so I am going to get another and try it out again. Hopefully that will resolve the problem.
While the Model 597 feature-set and functionality probably won't convert any Marlin Model 60 or Ruger 10/22 loyalists out there, it is a fairly accurate autoloader that will give you a lot of bang for your buck. Additionally, since it comes apart so easily, cleaning and maintenance is a breeze. There are some after-market parts available to customize the firearm, but the available options are much more limited than that of the Ruger 10/22. Well… To be fair, I don't think any other weapon on earth has as many after-market options as the Ruger 10/22.
I really could not get over how much I hated the iron sights that came with it. I would certainly not own this weapon without upgrading the sights. And while I was at it, I would most likely upgrade the trigger mechanism as well. However, I think I would look to Marlin's Model 60 or Ruger's 10/22 as my semi-auto plinker .22LR of choice.

About the Remington Arms Company

Remington Arms Company, LLC, headquartered in Madison, N.C., designs, produces and sells sporting goods products for the hunting and shooting sports markets, as well as military, government and law enforcement markets. Founded in 1816 in upstate New York, the Company is one of the nation's oldest continuously operating manufacturers. Remington is the only U.S. manufacturer of both firearms and ammunition products and one of the largest domestic producers of shotguns and rifles. The Company had revenues in 2004 of approximately $393 million and distributes its products throughout the U.S. and in over 55 foreign countries.
--