Redfield Revolution 2-7x33mm Accu-Range Reviewed

Marketing from Redfield
If you hunt woodlots, thickets, or dark timber, this Revolution is for you. Mount it on a lever gun or short action to save weight and get the job done. Plus, the 7x magnification makes this scope at home hunting over meadows, clear-cuts, and broken country. The rebirth of an American legend; the all-new Redfield Revolution™. Made in Oregon using state-of-the-art design, manufacturing, assembly, and testing techniques, the Revolution™ produces optical, mechanical, and functional superiority that no import can rival.
The Illuminator Lens System™ combines premium lenses with cutting-edge multilayer, vapor-deposition coatings to provide unparalleled image quality, a greater usable field of view, and superior light transmission. For absolute long-range precision, the available Accu- Range™ reticle provides hold points to 500 yards with matchless simplicity and deadly accuracy, while meticulous attention to detail generates the ultimate repeatability and reliability of the Accu- Trac™ adjustment system. Painstaking design effort resulted in Redfield's exclusive Rapid Target Acquisition™ (RTA) eyepiece, meaning no more missed opportunities because you couldn't find the "sweet spot" behind the scope.
Tested to levels that literally render competitive scopes useless, you can rest assured that your Revolution™ is absolutely waterproof, fog proof, shock proof, and covered by the Redfield Full Lifetime Warranty.
Manufacturer: Redfield, redfield.com
Model: Redfield Revolution Accu-Range
Download: Specifications
Magnification: 2-7x
Objective Lens Diameter: 33 mm
FOV @ 100yd: 2x: 43.2 ft, 7x: 17.3 ft
Adjustability: 65 MOA, Accu-Trac 1/4 MOA
Eye Relief: 3.7-4.2″
Tube Diameter: 1″
Length: 11 inches
Weight: 11.1 ounces
Origin: Made in the USA
MPN: 67085
UPC: 030317670801
MSRP: $264.99

The Review
In 2008, Leupold & Stevens, Inc. purchased Redfield, reviving the brand to once again produce high-quality optics at an affordable price. As part of the Leupold family, Redfield optics are built with the same care and rock-solid durability that we have come to know and love for well over 100 years. Redfield optics are made entirely in America in Beaverton, Oregon. A suburb of Portland.
The Redfield Revolution line includes 2-7x33mm, 3-9x40mm, 3-9x50mm and 4-12x40mm models. In this review, I evaluated the 2-7x33mm Revolution with an Accu-Range™ Reticle mounted on a Ruger 8301 American Rimfire 22LR.

Features
Redfield optic tubes are CNC machined from the same 6061-T6 aluminum bar stock as Leupold scopes and incorporate many of the same modern optic technologies.
Illuminator® Lens System
Quality lenses can make or break a hunt. Our Illuminator® Lens System gives you the clearest image for the cleanest shot. So take a deep breath and squeeze the trigger with complete confidence. If you're on the mark get out your knife. Premium lenses and vapor deposition, dielectric coatings deliver exceptional light transmission in the low-light, blue wavelengths that dominate at dawn and dusk, when game is most active.
Rapid Target Acquisition™
See your buck, target your buck. It's easy with Revolution's generous eye relief and Rapid Target Acquisition™ eyepiece. No searching for the visual sweet spot when time is critical.
Rugged Reliability
Every scope we design gets put through it's paces. Our tests dish it out to make sure every scope is tough as nails, fully waterproof, and ready to hunt.
Accu-Trac™ Adjustment
Precision, stainless steel, 1/4-MOA finger click adjustments let you quickly and easily zero your rifle on the range, and confidently correct for windage or elevation in the field. When combined with Redfield's exclusive Accu-Range™, you can quickly zero and place shots right on the money, even at long range.
100% Waterproof / Fogproof / Shockproof
These scopes are built to take anything Mother Nature can dish out: driving rain, sleet, ice and snow are no match for the rugged, watertight Revolution. Nitrogen-processed maintubes are totally waterproof, and are guaranteed to stay that way, so the elements will never dampen your hunt.
Accu-Range™ Reticle
As one of the first with bullet drop compensation, Redfield's original Accu-Range™ pioneered the reticles we take for granted today. The new Accu-Range blends precise holdover points hunters need with a bold center that naturally leads the eye for fast shot placement at close quarters.
The reticle comes with precise aiming points that work with most popular hunting loads. For many standard cartridges, sight in at 200 yards with the center crosshair, and the remaining hold points are dialed in up to 500 yards. The bottom of the circle intersects the vertical crosshair at the 300-yard aim point, the dot is your hold for 400 yards, and the bottom post provides a 500-yard aiming point. For faster, magnum-caliber rifles shooting light bullets, you can sight in at 300 yards, and have hold points for 400, 500, and 600 yards.
"No Excuses" Warranty
The Accu-Range includes Redfield's "No Excuses" warranty. If you have a problem with your Redfield product, they will make it right. No Hassle, no excuses. That's the Redfield way.

Functional Testing
Mounting the Revolution to a Ruger 8301 was simple and straightforward. For this, I used a set of Leupold Rifleman 3/8″ Rimfire see-thru scope mounts to attach the scope to the rifle's dovetail scope base. The scope was leveled and easily zeroed using a laser bore sight at 25 yards. The raised scope mount left plenty of room around the bolt-action and to utilize the iron sights sitting below.
Once the scope had been firmly mounted, zeroing the scope was a piece of cake. The Revolution is equipped with two stainless steel turrets with finger-adjustable knobs requiring no tools or coins to adjust. Each of the adjustable knobs have a tactile and audible 1/4-MOA click, and are protected by a sturdy aluminum knob cover. One to adjust the windage located on the right-side of the scope, and the other to adjust the elevation located on the top of the scope.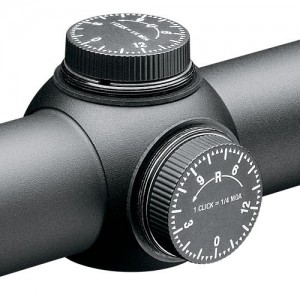 The scope has a 33mm multi-coated objective lens which provides a crisp sight picture with good color, clarity and contrast, even under low-lighting conditions like in the early morning or late in the afternoon. The field of view at 100 yards is documented as 43.2′ at a power of 2x, and 17.3′ at a power of 7x. However, the actual magnification levels are really only 2.5-6.5x.
One of the Revolution's best features is the vast eye relief from 3.7″ to 4.2″ and an exit pupil from .5″ to .2″. Eye relief is best described as the distance from the outer surface of the eyepiece lens to the position where the exit pupil is formed, otherwise known as the eyepoint. Looking through a scope from the eyepoint, you can see the entire field of view without any vignetting.
After Revolution had been zeroed and well over 5,000 rounds of .22LR ammunition shot over a few months time, the scope remained accurate and on target through each and every use. Even under hot, cold and wet conditions.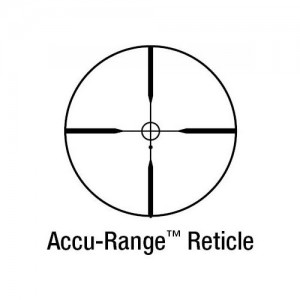 The model I tested featured the Accu-Range Reticle which provides accurate drop-compensation via precise holdover aim points for many popular hunting loads. More information cartridge loads and how the Accu-Range feature works can be found here.
Final Thoughts
While the Redfield 2-7x33mm Revolution is a sub-$200 scope, its high-level of quality and workmanship combined with its impressive feature-set and affordable pricetag is nothing short of amazing, and they have that no hassle lifetime warranty to match.
This scope is very lightweight and has proved to be significantly better than any other low-end scope that I have tried in the past. I say this only because I've got a huge collection of them. So if you are in the market for a new durable scope, but can't afford a high-end Leupold or some other other top-of-the-line scope, I highly recommend you give one of these Redfield Revolution scopes a shot before you go out and blow your money on a cheapy.
Redfield scopes are built tough and provide many of the same features and quality of some of the higher-end scopes out there. So if you need to get the job done without having to give up an arm and a leg, Redfield's scope will not let you down.

About Redfield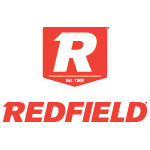 For more than 100 years, Redfield has built an American hunting legacy. Now as part of the Leupold family, this American legend is looking forward to another century of hunting.
Redfield represents the millions of American hunters who make this sport great. Those who scout, set up blinds, and wake long before dawn. Redfield optics are for people serious about their hunts, because we're serious about our hunting too. Whether you're after a trophy buck or a full freezer, Redfield optics get the job done, season after season.

--