Redfield Counterstrike Tactical Riflescope Reviewed

Marketing from Redfield
Our new CounterStrike™ puts every advantage in your favor, combining a powerful, visible, red laser and an illuminated, 4-MOA green/red dot scope in one versatile sighting system. Get on target faster and with greater precision, either through the scope or using the laser sight. There's no excuse to ever miss a shot again.
Warranty: We build our Redfield riflescopes, sights, binoculars, spotting scopes and laser rangefinders to do their jobs. Day after day. Season after season. It's what you expect for your hard earned money. If you ever have an issue, the last thing you need is backpedaling and passing the buck. That's where our "No Excuses" Warranties come in. If you have a problem with your Redfield product, we will make it right. No Hassle, no excuses. That's the Redfield way.
Manufacturer: Redfield, redfield.com
Model: Redfield Counterstrike
Magnification: 1.0x
Objective Lens Diameter: 30 mm
Adjustability: 90 MOA
Reticles: Red or green 4-MOA dot
Illumination: 11 settings, including two night-vision capable
Eye Relief: Unlimited
Tube Diameter: 30 mm
Laser: Class 3A; 5 mW red beam
Battery: CR-123A
Length: 5.9 inches
Weight: 14.8 ounces
MPN: 117850
UPC: 030317002343
MSRP: $224.99

The Review
Redfield optics are synonymous with a high-level of quality, workmanship and rock-solid durability at an affordable price. And as part of the Leupold family, this will not be changing anytime soon. A green/red-dot optic with a laser sight that can be found for less than $200? Why not? This is why I chose to give Redfield's Counterstrike tactical riflescope a shot.
Features
Even as a sub-$200 optic, Redfield's high-level of quality and workmanship combined with the impressive feature-set that Redfield has provided in the Counterstrike is nothing short of amazing.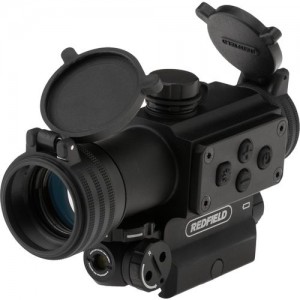 The long list of features include:
MIL-STD-1913 / Picatinny Rail
Mounting the CounterStrike on a MIL-STD 1913 Picatinny rail system is as easy as tightening down a single nut. The mounting system is rock-solid under fire and provides fast, repeatable mounting/dismounting.
1/2-MOA Click Adjustments with Tethered Covers
The CounterStrike offers precision 1/2-MOA click adjustments (slotted for a screwdriver or coin) for windage and elevation. All knob covers are tethered to prevent loss in the field.
Base-Mounted Laser
A powerful, integrated visible laser sight lets you engage targets in an instant from almost any position. The laser can be activated or deactivated with a simple press of a button.
Flip-Up Lens Covers
Each Counterstrike is equipped with easy-to-use flip-up lens covers to protect lens surfaces from scratches and the elements.
100% Waterproof / Fogproof / Shockproof
The CounterStrike is built to take on the elements, no matter how bad they get. The finish on the Counterstrike provides a sharp-look while remaining highly-durable. Sealed and nitrogen-filled, the CounterStrike's optics always remain extremely clear and completely waterproof and fog proof.
Impact Tested Reliability
The illuminated reticle and laser of the CounterStrike are powered by a single readily available CR-123A battery providing a run-time of up to 5,000 hours on lowest setting and up to 500 hours on highest setting. However, this runtime does not include the operation of the external laser.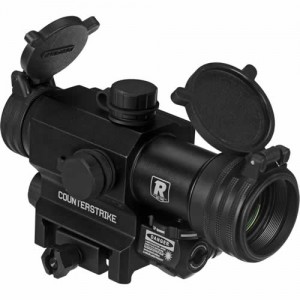 4-MOA Red/Green Dot Reticle
The CounterStrike features a user-selectable 4-MOA Red/Green Dot reticle in combination with the base-mounted laser. Eleven different illumination intensity settings (including night vision) provide the flexibility to adapt to any shooting/lighting conditions.
"No Excuses" Warranty
The Counterstrike includes Redfield's "No Excuses" warranty of two years on all of the electronics and full-lifetime coverage on the rest of the optic. If you have a problem with a Redfield product, the will make every effort to make things right.
Functional Testing
Mounting of the Counterstrike was quick and easy. Simply loosen the 1/2″ keeper nut allowing the sliding-bracket to open just wide enough to slip over the Picatinny rail system. Eye relief can easily be adjusted simply by moving the Counterstrike forward or rearward along the Picatinny rail. At the desired location, roll the Counterstrike onto the Picatinny rail with the keeper nut on the right-side of the firearm. Once the Counterstrike is in the correct position, ensure that the cross bolt is firmly engaged with the cross slot by pushing forward on the mount while tightening the keeper nut finger tight. At this point, double check that the eye relief is correct before you tighten the keeper nut to 45 in/lbs to lock the Counterstrike in place. Be careful to not overtighten it.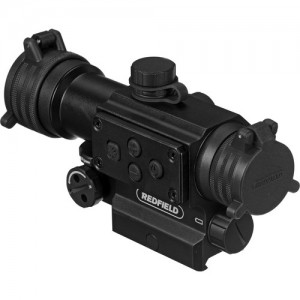 One of the first things I realized after installing the CounterStrike was the position of the laser sight in relation to the Picatinny rail system. The laser sight is set very low and likely to be obstructed by an A2-style gas block or fixed iron sights. However, there are various solutions to mitigate the issue and regain the use of the laser sight. The easiest solution is obviously to utilize an elevated Picatinny riser kit. You can also change out your gas-block to a low-profile variation, as well as moving to low-profile flip-up or offset style sights.
The Counterstrike's alignment adjustments are made using a screwdriver or small coin. The windage and elevation controls are located at the top and right-side of the Counterstrike which are protected by tethered screw-on covers. Each click is audible and well-defined at 1/2-MOA increments.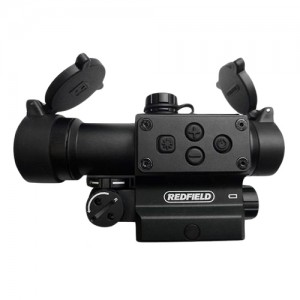 The external laser sight has a separate set of windage and elevation adjustments so it can be zeroed at a different distance than the red/green dot, providing a second aimpoint if you'd like. The laser is easily bright enough to use day or night. While testing, the laser remained visible beyond 35 yards under moderately lighted conditions.
Additionally, the Counterstrike remained on target even after multiple trips to the range, including repeated mounting/dismounting. Just as Redfield claimed it would.
Like the mounting of the Counterstrike, the control interface is also simple and intuitive to operate so it didn't take more than a couple of minutes to figure out how everything worked.
The forward-most button embossed with the asterisk (*) character controls external laser. Pressing the button switches the laser on and off. The red/green dot is activated by pressing the rear-most embossed power button, and deactivated by holding the power button for a few seconds. The color can be cycled between red and green simply by pressing the power button once the dot is activated. The dot intensity is adjusted by pressing or holding the embossed "+" or "-" buttons.
Final Thoughts
While Redfield's Counterstrike is not an EOTech G33.STS, Aimpoint Comp M4 or Trijicon ACOG, it is definitely top-notch for a mid to low-end Close Quarter Battle (CBQ) or Close-Combat Optic (CCO) sight system with a very affordable price tag. It is incredibly easy to mount and unmount at home or in the field, and stays true to zero every time. The dot is easy to see in both red and green modes, and the external laser provides a valuable alternative built in.
With the exception of an ever-so-slight glare coming from the lower dot emitter in very dark conditions, I have been extremely happy with the Counterstrike… It is waterproof, it is fogproof, and it is shockproof. Its stunning clarity coupled with its "No Excuses" warranty and low price tag make it a winner in my book. Perfect for home defense and having fun on a budget. Sure you can't go wrong with an Aimpoint or ACOG if you can afford one. But for those of us who can't, I think Redfield's Counterstrike riflescope could get the job done just the same.

About Redfield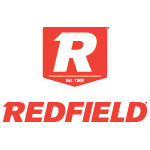 For more than 100 years, Redfield has built an American hunting legacy. Now as part of the Leupold family, this American legend is looking forward to another century of hunting.
Redfield represents the millions of American hunters who make this sport great. Those who scout, set up blinds, and wake long before dawn. Redfield optics are for people serious about their hunts, because we're serious about our hunting too. Whether you're after a trophy buck or a full freezer, Redfield optics get the job done, season after season.

--