Ready to Fish Soft Sided Deluxe Tackle Bag Reviewed

Marketing from South Bend
The Ready to Fish Soft Sided Tackle Bag is loaded with features allowing you to easily transport your tackle from garage to fishing hole — while keeping it protected, well organized, and easily accessible — with the South Bend's Ready to Fish Soft Sided Tackle Bag. The waterproof bag offers a variety of adjustable compartments, including a dedicated electronics pocket and a cable net to hold a jacket and gloves.
South Bend Sporting Goods, established in 1906, is dedicated to creating products that allow families to experience the joys of fishing. The company designs and manufactures durable angling products for all ages and skill levels.

Features

Waterproof and weather-resistant
Numerous adjustable pockets and compartments
Fits up to five medium utility boxes
Eight external accessory pockets
Interior map pocket
Insulated strong-box bag
Hook and lure organization
Leak-proof, easy-to-clean interior
Adjustable shoulder strap

Specifications

Dimensions: 18″ x 10″ x 14″ (W x H x D)
Weight: 2.75 lbs
The Review
I picked one of these Ready to Fish Soft Sided Tackle Bags. up a few months ago after reading quite a few stellar reviews on Amazon. I was so tired of lugging around a large tackle box -or- bringing what I thought would be just enough, and having to buy more (if I could). Or worse yet, cut my trip short. I felt it was finally time to try something new. At the time, the cost of the bag from Amazon was $24.81 plus shipping which only amounted to a few dollars more. I think it has dropped by a few dollars since.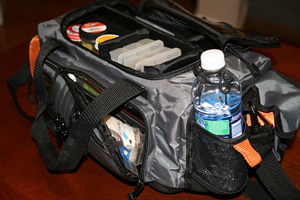 I received the bag shortly after I placed the order. When it arrived, I was pretty excited to get it loaded up. After a close inspection, I thrilled to find the bag, zippers, straps and material all seemed to be very durable and well put together. I am fairly certain this bag will hold up, even under somewhat extreme conditions. The bag was very affordable, especially when compared to many of the other bags of similar quality that I had also been looking at.
There are a lot of pockets all over the bag. On the front side there is a large pocket that contains has a number of smaller pockets inside (without zippers). Inside the lid of the front pocket, there is also a zippered pocket inside, plus a small pocket and carabiner loops on the outside. There is a mesh pocket for a water bottle and another with a velcro flap covering it on one side, and a zippered pocket on the other. Across the top, there is a cable net to strap things down to the top like a light jacket.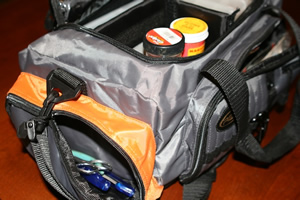 When I opened up the main compartment I found the adjustable shoulder strap and a clear plastic zippered pocket in the lid. Additionally, the bag came with two large dividers that velcro to the sides across the entire length of the bag and three small dividers which are about 3″ wide to further subdivide the larger sections fitting between the edge of the bag and the main dividers. However, I found I only needed one of the longer dividers, but I did use all three of the smaller dividers.
One thing I should mention, the product dimensions posted on Amazon are slightly larger than the actual dimensions of the bag that I had received. When fully expanded, I found the width to be 18″, the height to be 9″ and the depth was 11″ (18″ x 9″ x 11″). Based on the Amazon reviews, it seems that the actual dimensions may vary a bit. Also, the bag does not come with any plastic organizers, so expect to purchase some if you don't already have them.
Even with a moderate amount of gear, the bag is very light easy to manage. Happily, now my gear is somewhat organized and easily accessible. And most of all, now I have the room to bring what I need without the struggles I had before. Sure everyone has different needs and tastes when it comes to fishing gear, but this bag has been working great for me. I would definitely purchase another for myself if I ever needed. I wholeheartedly recommend you take a closer look at this bag should you find yourself in the market for a new bag.
As always, you can click here or the Amazon link above for more information and reviews that can be found on Amazon.
--