Epic Survival: Extreme Adventure, Stone Age Wisdom, and Lessons in Living from a Modern Hunter-Gatherer Book Reviewed
Title: Epic Survival: Extreme Adventure, Stone Age Wisdom, and Lessons in Living from a Modern Hunter-Gatherer

Publisher: Gallery Books; First Edition
Published: July 14, 2015
Format: Paperback, Kindle, Audible
Pages: 304 pages
Language: English
ISBN-10:
ISBN-13: 978-1476794655

Audible Audio Edition: 7 hours
Publisher: Tantor Audio
Audible.com Release Date: July 14, 2015

Genre: Personal Memoir


About the Book
Matt Graham, star of the Discovery Channel's Dual Survival and Dude, You're Screwed, details the physical, mental, and emotional joys and harrowing struggles of his life as a modern-day hunter-gatherer.

Early on in his life, Matt craved a return to nature. When he became an adult, he set aside his comfortable urban life and lived entirely off the land to learn from the smallest and grandest of all things. In this riveting narrative that brings together epic adventure and spiritual quest, he shows us what extraordinary things the human body is capable of when pushed to its limits.

In Epic Survival, written with Josh Young, coauthor of five New York Times bestsellers, Matt relays captivating stories from his life to show just how terrifying—and gratifying—living off the grid can be. He learns the secrets of the Tarahumara Indians that helped him run the 1,600-mile Pacific Crest Trail in just fifty-eight days and endure temperature swings of 100 degrees. He takes us with him as he treks into the wilderness to live alone for half a year, armed with nothing but a loincloth, a pair of sandals, a stone knife, and chia seeds. He recounts near-death experiences of hiking alone through the snowdrifts at the bottom of the Grand Canyon, and tells us about the time he entered a three-day Arabian horse race on foot—and finished third.

Above all, Epic Survival is a book about growing closer to the land that nurtures us. No matter how far our modern society takes us from the wilderness, the call remains. Whether you're an armchair survivalist or have taken the plunge yourself, Matt's story is both inspiration and invigoration, teaching even the most urbane among us important and breathtaking lessons.


About the Author
Matt Graham is one of the world's premier survival adventurers and primitive living skills teachers. He stars in Discovery Channel's Dual Survival, is featured on Discovery's Dude, You're Screwed, and has served as a consultant for Survivorman and The Amazing Race.

Josh Young is the coauthor of five New York Times bestsellers, including Howie Mandel's Here's the Deal: Don't Touch Me, Dr. Sam Parnia's Erasing Death, Bob Newhart's memoir I Shouldn't Even Being Doing This, and Jim Belushi's Real Men Don't Apologize.

The Review
I love watching Matt Graham on his Discovery shows and listening to him on Youtube talk about his life experiences and philosophy as a modern-day hunter-gatherer while sharing the wealth of knowledge and wisdom that he possesses. He truly is an inspiration to survivalists like myself, so I was pretty excited to pick up is personal memoir just as soon as I heard it had been released…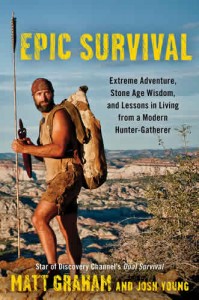 I opted for the audiobook since that seems to be the only way I can get through a book these days. I just don't have the time anymore to sit and read. The book starts off at a fast-pace and it doesn't really slow down much along the way. Not at all what I was expecting.
The book is called Epic Survival: Extreme Adventure, Stone Age Wisdom, and Lessons in Living from a Modern Hunter-Gatherer, so I guess I was expecting more of a survival handbook or an epic story of survival than a philosophical one. The level of detail and emotion that I was expecting just was not there. The stories only seemed to touch on the events in his life and did not share much more than that. I found it to be more of a quick look at his lifestyle and his deep connection with the land than a book on how and why.
Over the course of the book, Matt discussed the physical and mental aspects of primitive living and shared his respect for the land and the importance of listening to the land and understanding what it is telling you. He also discusses his distaste for the modern lifestyle and the unearned shortcuts that he believes people are taking, but not so much so that he forces his ideas, beliefs and values on anyone else.
So if you are looking for a guidebook for living off the land or a story of epic survival, you will likely be disappointed. But if you are looking for the inspiration to grow closer to the land, this book is for you. I really did enjoy listening to the audiobook, and had I not had a false expectation of the book, I probably would have enjoyed it that much more.

--