Diamondhead USA Polymer Sighting System Reviewed

Marketing from Diamondhead USA
Diamondhead USA's DIAMOND Polymer Integrated Sighting System w/ NiteBrite photoluminescent inserts are designed for all AR15s and Modern Sporting Rifles. Front and Rear Sights both incorporate the Patented Diamond-shaped apertures and upper housings and are fitted with NiteBrite photoluminescent inserts.
Manufacturer: Diamondhead USA, Inc., www.diamondhead-usa.com
Model: Polymer Integrated Sighting System (ISS)

Fit: M1913 Picatinny Rail System
Description: Front/Rear Flip-up Sights
Finish/Color: Black
Accessories: NiteBrite Inserts
Warranty: Diamondhead USA Lifetime Warranty
MPN: 1499
UPC: 857880003511
MSRP: $118.00


Features

Advanced Polymer/Composite construction for  strength, light weight & exceptional durability
NiteBrite™- Photoluminescent Inserts (the low-cost alternative to Tritium) – can be charged by natural light or with a flashlight
Spring-loaded flip up sights, stay up securely and fold down flat
Patented Diamond-shaped Apertures and Upper Housings for fast alignment
Secure attachment to all Mil. Std. 1913 Picatinny Rails
The Review
Diamondhead USA recently introduced their new Polymer Diamond Integrated Sighting System (ISS) with NiteBrite at the NSSF SHOT Show 2014. Diamondhead USA is a reputable firearms accessory company known for its high-quality metal sights but as with most quality sights, they are somewhat pricy. Diamondhead's new entry-level polymer sights are a much more affordable alternative, without having to sacrifice on quality.
Like Diamondhead's spring-loaded iron-sight counterparts, their polymer sights flip up with the simple push of a button. The buttons are located on the left side and when pressed, the sights quickly snap into position. They stay up securely and fold down flat against the rail with ease. Both front and rear polymer sights feature NiteBrite photoluminescent inserts (the inexpensive alternative to Tritium) that can be charged with natural light or in just a few seconds by a bright flashlight.
Diamondhead's rear sights were designed for use on all AR15s and modern sport rifles fitted with an M1913 Picatinny Rail System and can be paired with any Picatinny rail mounted Diamondhead front sight. I found the rear polymer sight to be a very snug fit when I was installing it on a CNC machined Billet upper receiver. The rear sight is locked firmly in place by a single slotted screw running through its base, tightened into a fitted nut. Once installed, the rear sight laid flat against the rail, almost touching it. Then quickly snapped into position once the button was pressed.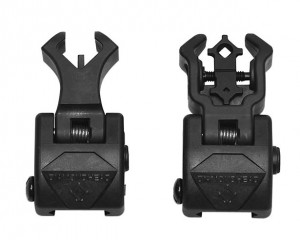 Diamondhead's rear polymer sights feature their patented Diamond-shaped steel dual-aperture and upper housing for faster target acquisition and alignment with any of Diamondhead's front sights. The rear sight provides a 0.5 MOA clickable windage adjustment that requires a small-medium flat-tip screwdriver to adjust.
Diamondhead's polymer front sight accepts most any A2 style front sight posts and can be changed out easily. Elevation adjustments are made to the front sight with a simple thumb-dial located near the base of the sight to raise and lower the post.
I installed the polymer front sight on a Unique AR Web forend. Like the rear sight, it fit snuggly on the Picatinny rail. It too is locked firmly in place by a single slotted screw running through its base, tightened into a fitted nut. Once installed, the front sight also laid flat against the rail, almost touching it. Then quickly snapped into position once the button was pressed.
Please Note: Polymer front sights are not suitable for gas block sight bases due to heat issues.
I used a laser bore sight to quickly sight in the polymer sights. After a few clicks here and there, Diamondhead's polymer sighting system was ready for the range.
Final Thoughts
Diamondhead's patented Diamond-shaped aperture make it fast and easy to acquire and focus in on the front sight post and target. Target acquisition is much quicker with Diamondhead's Diamond-shaped aperture than with a traditional circular aperture. Diamondhead's polymer sighting system shows clearly through a low-end Shilba holographic red-dot optic which I have also been testing out. As a result, these iron sights remain usable without having to remove the optic first which is a huge advantage. Obviously, if you are using a scope or other optic style you would need to remove it before you can make use of these iron sights.
So if you aren't planning to use high-end iron sights, you should certainly consider trying out Diamondhead's polymer sighting system. These sights are available for purchase as a complete set for only $118 or individually for $49 (front) and $69 (rear) directly from Diamondhead USA or one of many local and online stores around.

About Diamondhead USA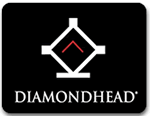 Diamondhead USA, is a West Springfield, Massachusetts company. We are nationally known and respected as a leading design innovator, manufacturer and distributor of top quality accessories for the Tactical Weapons industry. Diamondhead specializes in the M4/AR15 platform and has recently developed products for .308 caliber rifles. The original Diamond Sights with the patented Diamond-shaped Apertures and Diamond-shaped upper housings – that launched the company – have now grown to over a hundred products. We offer a Lifetime Warranty on everything we manufacture.

--