Break-Free CLP Reviewed

Marketing from Break-Free
When the United States Military issued PD-48, a purchase description of properties for a single, multi-purpose product to maintain their weaponry, it became known as the "impossible specification" because of its severe requirements. The first product to meet the challenge – Break-Free CLP.
Break-Free's flagship product, CLP is a unique formulation of synthetic oils and individual proprietary ingredients which synergize in combination to do three important tasks simultaneously: Effectively Clean, Lubricate and Protect metal. Break-Free CLP is now recognized around the world as the standard by which maximum metal performance and protection is ensured.
Manufacturer: Break-Free, www.break-free.com
Product: CLP (Clean Lubricate Preserve)
Primary Uses: Bore Cleaning Solvent, Lubricant, Rust Preventative

Penetrates and spreads along metal surfaces into every pit and crevice to undercut contamination and lift residue away where it can be removed.
Long-lasting lubricating film dramatically reduces adhesion of sand, grit or other abrasives which cause wear and failure.
Corrosion inhibitors prevent the formation of rust while Break-Free's unique boundary film protects metal surfaces from moisture and other contaminants.
Specially formulated synthetic oils won't lose viscosity, dry out or stiffen up in extreme environments – such as cold, heat, dust, dirt, humidity and even salt air – keeping equipment in ready condition for months at a time.
The Review
A while ago I was introduced to Break-Free CLP so I thought I would write a little bit about what it is and how it has worked for me. I used to be from the old-school… I remember running patch after patch of bore cleaner and powder solvent through my firearms until they were clean and dry followed by a lube and wipe down before I put them to bed. Clean and fast could rarely be used in the same sentence.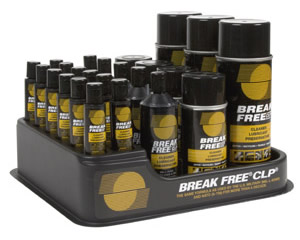 Then a couple of years ago, I ran across the Otis Cleaning System. I loved the idea of not having to use rods anymore, and the tiny little container of CLP that came with the kit changed my life forever. As a cleaner, it worked very well, but I found that the lube and protectant properties were little lacking. So before the container was finished, I began my search for something better. That is when someone at one of my local gun shops told me I should give Break-Free CLP a try. I purchased a bottle and I have not looked back since.
Break-Free CLP is a synthetic-based lubricant that is fortified with PTFE. It is specially formulated to meet or exceed the US Military's PD-48 challenge. They needed a single, multi-purpose product to clean and maintain their weaponry. As a result, Break-Free CLP was born.
Break-Free CLP cleans bores, chambers, trigger assemblies and all other mechanical parts where lead and firing deposits accumulate. It is actually pretty amazing to watch how just quickly it penetrates, loosens and lifts the deposits away. However, In the case of heavy copper buildup, after an initial cleaning with Break-Free CLP, it is usually a good idea to also use an ammonia-based solvent like Shooters Choice or Sweet's 7.62 which tend to break down the copper deposits much better. Then once the copper buildup has been thoroughly removed, continue with the lubrication and protection processes with Break-Free CLP.
Break-Free CLP is an exceptional lubricant. It works best when all moving parts are coated with a thin, long-lasting film for a smooth, easy action. This equates to less friction and wear. Additionally, Break-Free CLP never gets gummy or sticky, even under extreme weather conditions.
Finally, Break-Free CLP preserves metal against rust and corrosion and is environmentally safe and user friendly. Of the three functions that Break-Free CLP performs, protecting metal and inhibiting rust is likely the one that is does the best. Tests have shown that Break-Free CLP is surely one of the best all-in-one CLP type products at the preservation of metals.
Final Thoughts
I know I've spent tons of time taking care of my firearms. I clean each one before I pack them into my range bag or travel cases. Then, I clean them again when I bring them back, before I put them away. This allows me to keep them clean and always in a safe, working order. Additionally, I store each of them in a teflon-lined gun socks to keep dust, fingerprints and other contaminants at bay once they have been thoroughly cleaned.
As you can imaging, my firearms are cleaned quite often and I spend a lot of time doing it. With this in mind, I have to say that with the use of Break-Free CLP in combination with the Otis Cleaning System and a few Hoppes Viper Boresnakes, I have cut the time I used to spend cleaning my firearms down by at least 50 to 75%.
I think everyone who takes care of their firearms should give Break-Free CLP a shot. Sure it is not for everybody… As for me, it is a must!

About Break-Free

Break-Free® is a leading manufacturer of synthetic-based cleaners, lubricants and preservative compounds for military weapon maintenance, law enforcement, civilian firearms, high performance sports equipment and industrial machinery.

--