Alpen Sport 8×25 Waterproof Monocular Reviewed

Marketing from Alpen Optics
Alpen's New 8×25 monocular is fully waterproof / fogproof and features BAK4 fully multi-coated optics for superb optical performance. The rubber coating and ergonomic grip combined with its lightweight and compact size make them ideal for backpacking, hiking, cycling, and other activities where size and weight are an issue. 321 ft field of view (at 1000 yds). Includes wrist strap, nylon carrying case, and Alpen's lifetime warranty.
Ideal for backpacking, hiking, cycling, and other on-the-go activities, the Alpen 8×25 monocular is built to endure the toughest of conditions while still fitting easily in a pocket or pack. The monocular is equipped with BaK-4 lenses with fully multicoated optics, guaranteeing superior brightness, resolution, and edge clarity regardless of your subject. The monocular also includes a rubber coating and ergonomic grip for easier use in wet weather. Best of all, the monocular measures 4.75 inches long and weighs a mere 5 ounces, barely enough to register among all your other gear.
Other features include long eye relief; a waterproof, fogproof housing; a wrist strap; and a nylon carrying case. The monocular carries Alpen's lifetime warranty against defects in materials and workmanship.
Manufacturer: Alpen Optics, alpenoptics.com
Model: 120 Sport 8×25 Waterproof Monocular

Magnification: 8x
Objective: 25mm
Prism type" Roof
Field of view: 321 feet @ 1,000 yards
Exit pupil: 4mm
Eye relief: 18mm
Close focus distance: 12 feet
Prism material: BaK-4 Optics
Lens coating: Fully Multicoated
Waterproof/Fogproof: Yes
Accessories: Nylon Case
Length: 4.75 inches
Weight: 5.5 oz
Origin: Imported
Warranty: Lifetime
MSRP: $100.00

The Review
Optics… Everyone should have some at home, the car, EDC and bug-out bag. Whether you are trekking down an off-beaten path or dealing with a bug-out situation, it is a huge tactical advantage to be able to have a view from afar. While some prefer binoculars, I prefer the compact size and light-weight of a monocular. In this article, we'll be taking a look at Alpen's Sport 8×25 waterproof monocular.
Established in 1997, ALPEN Optics set out to to provide high-quality optical products at affordable prices. Today they offer sporting enthusiasts a wide-variety of binoculars, spotting scopes, rifle scopes and accessories. All Alpen brand products are backed by a fully transferable Lifetime No Fault Warranty against manufacturing defects, materials and workmanship.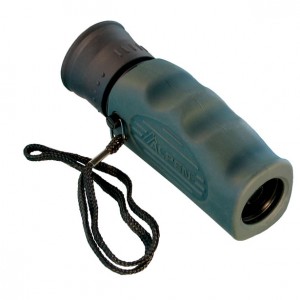 Measuring only 4.75 inches long and weighing just over 5.5 ounces with the strap and lens cover, ALPEN's model 120 monocular housing is both waterproof and fogproof, and designed to endure the toughest of conditions. It is encapsulated in a compact, lightweight and extremely durable and ergonomic rubberized grip ideal for use in wet weather. Model 120 is also constructed with smaller prisms and objective lenses further reducing its size and weight.
Simply put, a monocular is really just a modified refracting telescope used to view objects at a distance as though they were much closer. In addition to a series of objective lenses used to magnify the image of distant objects, a monocular utilizes a pair of prisms to fold the optical path thereby reducing its overall size and weight. However, in contrast to most telescopes where the image is inverted, by utilizing a pair of prisms the resulting image appears in the correct orientation.
ALPEN's model 120 combines a powerful 8x magnification with a 25mm objective lens to provide a long eye relief of 18mm for eyeglass wearers, an exit pupil diameter of 4mm and a 321 foot field of view at 1000 yards with a close focus distance 12 feet. Its BaK-4 high index glass and multicoated optics provide superior brightness, resolution, and edge clarity regardless of your subject for outstanding optical performance.
Monocular settings are typically pretty simple, and ALPEN's model 120 is no different. To set the eye relief which is the distance between the eyecup and the lens, simply twist the eyecup to one of three clickable settings. Focusing this monocular is performed by twisting the notched focus-ring located just behind the eyecup until the focus is clear and sharp.
The nylon carrying case is really nothing special. It is a simple, lightweight case weighing only 1.1 ounces. It has a hook and loop closure and sewn-on belt loop capable of holding a belt up to 1-3/4″ wide.
The eyecup is protected by a tethered rubberized cap that is easy to remove if necessary. There is also a 7″ fixed nylon lanyard provided for tethering the monocular to your wrist.
Final Thoughts
Small enough to fit in your pocket or hung around your neck, ALPEN's model 120 monocular is ideal for hiking, birding, sporting events and any other on-the-go activities that require a telescopic view. Perfect for survivalists and outdoor enthusiasts alike, ALPEN packed all of the quality, performance and value that you would expect from any good optic into its small, lightweight footprint.
I carry this monocular in my EDC so its always at my side wherever I go. I use it whenever I'm at the park with my dogs and want to check out the local wildlife, at concerts and sporting events, at the shooting range, and everywhere else that I need to see from a distance.
ALPEN's high-quality optics and weatherproof design offer enthusiasts an affordable alternative, comparable to competitors costing several times as much. At a little over $50, you really can't go wrong with this optic. If you are shopping for an affordable monocular, this one definitely should be on the short list.

About Alpen Optics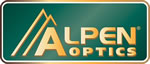 ALPEN was established in 1997 and offers a line of binoculars, spotting scopes, rifle scopes and accessories we believe give the best value in the industry today. Our objective is to provide superior quality optical products at affordable prices. Products range from our entry level Sport Series to our world class Rainier top-of-the-line family of binoculars and spotting scopes. We strive to provide performance features and quality normally found only on products selling for several times that of an Alpen product. Our customers are the most important reason for our past and future success and we are determined and committed to providing customer service that is second to no one.

--