5.11 Tactical Covrt 18 Backpack Reviewed

Marketing from 5.11 Tactical
Designed to appear subtle and inconspicuous, the COVRT 18 is a full-sized covert backpack that provides superior tactical utility and efficiency in a wide range of environments. Also perfect for off duty CCW use, the COVRT 18 features a Backup Belt System™ compatible hidden pistol pocket and a concealed R.A.C. (Roll-down Assault Compartment) that can house a full sized firearm. QuickTact™ accessory straps at the shoulder integrate with other 5.11 tactical gear, a padded sunglass pocket keeps your eyewear protected, and a flip down ID panel allows you to go from covert to overt instantly. The main compartment provides a padded laptop sleeve and roomy main and secondary storage areas, while adjustable yoke shoulders, compression straps, and a reinforced grab handle ensure easy carry.
Manufacturer: 5.11 Tactical, 511tactical.com
Model: COVRT 18

Capacity: 30L
Materials: 500D Water Resistant Nylon
Main Storage Compartment: 19″H x 12.25″L x 6.5″D
Secondary Storage Compartment: 11″H x 9.25″L x 2.5″D
Hardware: YKK® zippers, Duraflex® hardware
Hydration Compatible: Yes
Padded Laptop Compartment: Yes
Warranty: Limited Lifetime
Colors: Asphalt/Black, Mantis Green/Dark Oak, Code Red/Steel Gray, Blue Depth/Asphalt, Black/Black, Ice/Smoke, Foliage, Ice, Storm

Origin: Vietnam
MPN: FIV56961021
UPC: 844802227155
MSRP: $130.99

The Review
I've been looking for a good Every Day Carry (EDC) bag for some time now, and I think I've checked out just about every sling-pack, messenger bag and murse around. Lately I've heard a lot of good things about 5.11 Tactical's Covrt 18 Backpack so I thought I'd give one a closer look.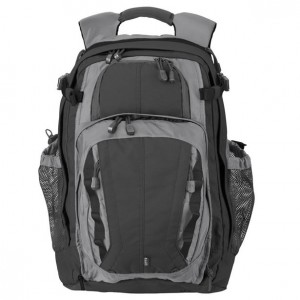 To choose the right bag, there are a few very important questions to answer… Do you need to carry work-related items like files or a laptop? How far do you typically need to travel? What survival gear do you plan to carry?
I try hard not to be a kitchen-sink kind of guy. But most of the time I find myself packing gear to cover some of the most obscure survival situations that I would likely never run into. I don't want to carry a 50L EDC pack weighing 50 pounds or more, and I certainly don't want a huge overt black-ops pack with MOLLE webbing and pouches all over the place.
In a survival situation, I don't want to add to an already heightened stress-level by feeling like I'm walking around with a target on my back. I want to avoid drawing any unnecessary attention if I can help it. As a result, I felt the need to find a pack that looks as inconspicuous as possible.
So my requirements are… A lightweight and inconspicuous 20-35 liter backpack with a few organizational pockets that will hold a laptop and its cables, some survival gear including a first aid kit and rations, a small emergency toolkit, and of course self protection. Simple huh? Not so much. But there are more than a few options out there that do cover all of these bases, some better than others.
At first sight, the COVRT 18 Backpack looks like any other daypack or school backpack available, perfect for not drawing unwanted attention. It is very lightweight and the nylon feels pliable, yet tough enough to get the job done. Sure it is not a heavy-duty 900D with MOLLE webbing covering every square inch, but that would completely defeat the purpose of this bag. If that level of durability is what you need, this bag is not for you.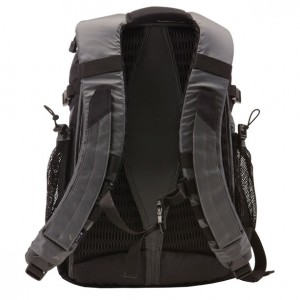 The COVRT 18 Backpack was constructed from a high-quality 500D water resistant nylon with an overall capacity of nearly 30 liters. The pack also features YKK® zippers and Duraflex® hardware throughout. Additionally, it appears that most of the seams are double stitched for increased strength and durability.
The COVERT 18 features yoke-style shoulder straps with a padded and reinforced grab handle. The shoulder straps and back of the pack are heavily padded and covered with a coarse nylon webbing for good ventilation and extra comfort. The lower backing on the pack is made from some type of rubberized non-slip material to prevent the pack from sliding around when you are walking or running. The straps are easily adjustable with plastic Duraflex quick-release buckles.
The straps are held together at the front with an adjustable sternum strap for improved security and comfort. The COVRT 18 also features the proprietary QuickTact™ accessory system which allows you to strap modular accessories that you can purchase separately. One of the most common accessories is a small electronics pouch that just happens to be too small for most modern cellphones and navigation devices.
On each side of the pack, there are hidden quick-access flex cuff channels and 1-1/2″ adjustable belt buckles. I believe the belt can be purchased separately. Although, I have not been able to find a link to it. Additionally, on each side of the pack there is a mesh pocket large enough to hold most 32 ounce water bottles with an easily adjustable elastic quick-clip to hold it firmly in place.
The COVRT 18 is hydration compatible with a compartment just behind the back wall of the pack. In this pocket, there is a strap to mount a hydration bladder and keep it from sagging. Additionally, there is a port so the hydration tube can exit through the top of the compartment for easy access. You will also find a pocket where the removable rigid plastic back panel is located.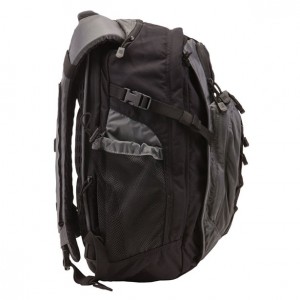 At the top of the pack, there is a soft-lined pocket perfect for sunglasses or a cell phone with zippers that open from either side making it easily accessible.
Just in front of the hydration compartment is the huge main compartment which is 19″ tall, 12.25″ wide and 6.5″ deep. On one wall, there are two mesh pockets with zippered closures. On the opposite wall, there is a padded pocket large enough to fit a 17″ Macbook Pro. At the bottom of the main compartment, there are two large grommet holes for drainage. On each side of the main compartment, there is an adjustable compression strap with a quick-release buckle to keep things held firmly in place and not shifting around.
The next compartment forward is the concealed carry compartment featuring two full-length zippers easily accessible from either side of the pack. There is a small hook and loop patch sewn onto the back wall of the compartment 8″ wide and 5″ tall to accommodate a wide-variety hook and loop holsters and magazine pouches. The pocket is nearly 14″ tall, 10″ wide and 2″ deep capable of concealing most firearms and tazers, and in some cases additional magazines as well. This compartment can be accessed quickly from either side simply by disconnecting one of the quick-release shoulder strap buckles allowing the pack to swing down in front of your body where it is more accessible.
The front compartment is 11″ tall, 9.25″ wide and 2.5″ deep. In the marketing material, it is referred to as the concealed RAC (Roll-down Assault Compartment) with a web platform and ambidextrous BBS (Back-up Belt System) compatibility. There are two small straps to keep the front panel rolled up and out of the way as part of the RAC system.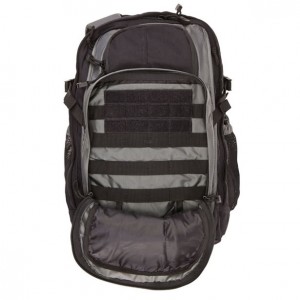 The back wall of the front compartment consists of hook and loop webbing attached to the upper area and MOLLE webbing attached to the lower area to accommodate mounting a wide-variety accessories from pouches to hold extra magazines to a holster for a secondary firearm.
Located on the outside of the front compartment panel there are two thin pockets, each accessible from the opposite side of the panel. Additionally, there are external attachment points that are perfect for carabiners or elastic retention webbing.
The last compartment to go over is the roomy admin pocket located just above the front compartment. Inside the admin pocket there is a removable identification panel for sewn-on patches and badges that can easily be pulled out or hidden. Additionally, there is a tethered plastic clip and a small pocket organizer attached to the back wall of the admin pocket featuring a series of small pockets for pens and pencils, small notebooks, etc.
The COVRT 18 Backpack is offered in a variety of colors including Asphalt/Black, Mantis Green/Dark Oak, Code Red/Steel Gray, Blue Depth/Asphalt, Black/Black, Ice/Smoke, Foliage, Ice and Storm. Perfect for a team mixing it up while still blending in with the crowd.
I've had the pack for a few months now and I've noticed some good things and some not so good…
Lots of room… When I am headed to the office or a jobsite, I tend to pack a little heavier. Unless you are trying to pack for a week in Europe or Asia, you'll likely find that the pack has ample room for all of the gear that you need to carry.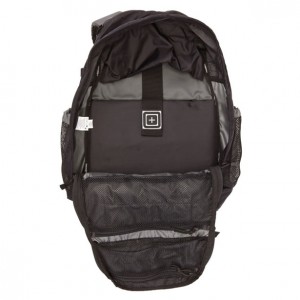 I can easily fit a 17″ Macbook Pro, power supply and all of its cables, a first aid kit, an emergency toolkit in a 6″ MOLLE pouch, a Lifestraw, one 32 ounce water bottle, 24 hours worth of some basic rations (nut bars and jerky), some basic toiletries, pens and paper, a few Mylar blankets, a waterproof poncho, an extra shirt and shorts, a small umbrella, a pair of work gloves, two small flashlights with extra batteries, a small survival blade, a baton, and when I feel the need I might even pack a firearm. Even with all of my gear, the COVRT 18 still has plenty of room to spare.
If I'm just out and about I will usually drop the laptop and cables to make things a bit lighter, and when I'm traveling or on a little hike I will usually carry a hydration bladder in its place just to make sure I've got plenty of clean water on hand.
As far as durability, the pack still looks like its new… It has been drug, kicked, rolled, thrown, and suffered many other abuses that backpacks typically suffer. Just a quick wipe with a damp cloth and it looks new again. All of the zippers still work perfectly. They still open and close without catching or binding. On some zippers, I've had to lubricate them with a dry teflon-based lube to keep them operating efficiently. But I have not had to do that with these.
Overloading… The pack does not handle a heavy load or being over-stuffed very well. The shoulder straps tend to bind and pull making them a little uncomfortable. If you can help it, try to keep the weight below 20-25 pounds so you won't have to deal with this issue.
Sadly, the hook and loop patch sewn onto the back wall of the concealed carry compartment is only 8″ wide and 5″ tall. It would have been so much better had the hook and loop area been another 5″ taller. Now that the pack has been assembled, there is no easy way to add more hook and loop because of the mesh pockets located on the other side of the back wall.
Finally, at a little over $100, I also wish that the COVRT 18 included a nylon waist belt and elastic retention webbing on the front compartment.
Final Thoughts
5.11 Tactical's Covrt 18 Backpack is as sharp looking as it is rugged and built to last. For increased durability, the Covrt 18 is made from high-quality materials including 500D nylon, YKK zippers and Duraflex buckles. No skimping on quality here. With a capacity of nearly 30 liters, there is plenty of room for typical EDC gear with room to spare. That is unless you try to pack everything under the sun or carry lead shot around with you.
In the few months that I have been using this bag, I have definitely grown attached to it. I can carry everything that I need to handle most situations that I might run across to get myself home safely. Sure there is room for improvement, but is there another bag out there that doesn't? For now this is the bag for me… If you need a quality EDC that won't break down on you when you need it most, you should take a close look at 5.11 Tactical's Covrt 18 Backpack before you decide on another.

About 5.11 Tactical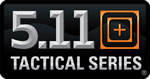 5.11 Tactical, the authentic and first tactical brand, creates superior products that enhance the safety, accuracy, speed and performance of law enforcement, military and firefighting professionals. Built on a foundation of durability, quality and value, 5.11 Tactical leads the industry, that it created, in delivering functionally innovative gear, head to toe. The company was ranked #211 on the 2007 Inc. 500 – Inc. magazine's annual ranking, by revenue growth, of privately-held, independent, U.S.-based companies. Locate a local 5.11 Full Line Dealer or order our best-selling tactical clothing, uniforms, outerwear, footwear, eyewear, duty knives, tactical gear, holsters and more on this site.

--