3V Gear Outlaw Sling Pack Reviewed

Marketing from 3V Gear
The Outlaw by 3V Gear is a tactical shoulder bag that lives up to the rugged capability of all 3V Gear. This shoulder bag is the best EDC bag out on the market. The Outlaw is hydration ready, made with tough 600D PVC nylon, and has a lifetime warranty. This tactical bag is big enough to hold smaller laptops and iPad size devices. There are many internal zippered compartments which makes organizing easy and fast.
Manufacturer: 3V Gear, www.3vgear.com
Model: 3V Gear Outlaw Sling Pack

Style: Daypack
Frame: None
Material: 600D PVC nylon
Colors: Coyote Tan / Olive Drab / Black
Weight: 2.1 lb
Capacity: 684 cubic inches
Hydration Compatible: Yes
Overall Dimensions: 15″ x 8″ x 6″
Number of Pockets: 4
Pocket Dimensions:
Main compartment: 15″ H x 8″ W x 4″ D (480 cubic inches)
Front Pocket (Top): 4.5″ H x 7.5″ W x 2″ D (68 cubic inches)
Front Pocket (Bottom): 8.5″ H x 8″ W x 2″ D (136 cubic inches)
Water Bottle Pouch: 9″ x 4″

Warranty: Lifetime Warranty
MPN: VVV-1203
UPC: 804879251446
MSRP: $37.85


Features

Concealed Carry Compatible
Padded adjustable shoulder strap, reinforced top and side handles
Large water bottle pocket, hydration pouch compatible
Molded EVA vented back panel, large center compression strap
All zipper pulls threaded with para-cord for durability and noise reduction
MOLLE and PALs compatible, MOLLE Velcro ID panel w/3V Gear 3D PVC Logo patch
The Review
I have been looking for a new Every Day Carry (EDC) bag and a smaller range bag that won't fall apart on me and won't break the bank, so I thought I'd try out a few… I ran across 3V Gear's Outlaw Sling Packs and thought that it might work at 684 cubic inches. At a little under $40, it is certainly affordable option.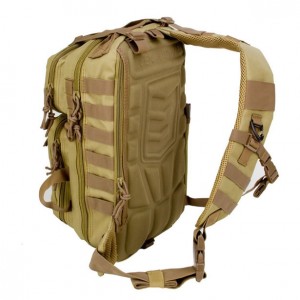 3V Gear's Outlaw sling-styled pack is hydration-capable and designed to provide quick and easy access to your gear without having removing the pack. Simply swing the pack from your back to your chest to gain access to gear stored in the side oriented compartments making the pack Concealed Carry compatible.
The Outlaw pack is made from a heavy-duty 600D PVC nylon with double-stitched seams and a lifetime warranty. All zipper-pulls are made from a rust-resistant nylon threaded with para-cord for durability and noise reduction.
The back panel is made from a soft and flexible molded Ethylene Vinyl Acetate (also known as EVA) which is a copolymer of ethylene and vinyl acetate. This provides a durable, vented and waterproof back panel. There is an 8″ x 15″ side-accessible zippered pocket along the back panel that is perfect for a 2 to 3 -liter hydration system with built-in paracord straps for supporting the hydration bladder. In addition, there is a hole located at the top of the pocket and straps along the shoulder strap for holding the hydration hose in place.
The fully-adjustable shoulder strap is padded for comfort. Its sling style design provides a full range of motion and includes an optional stabilizer strap for additional support. The Outlaw pack also features a reinforced top and side handle as alternative carry options.
On the left-side of the pack, there is an easily accessible water bottle pocket approximately 9″ tall and 4″ in diameter with an adjustable strap and push button lock to keep the bottle firmly in place.
The side-accessible main pocket is 15″ x 8″ x 4″ providing 480 cubic inches of usable space lined with various zippered and non-zippered internal compartments and a compression strap. Perfect for smaller laptops and iPad-sized devices.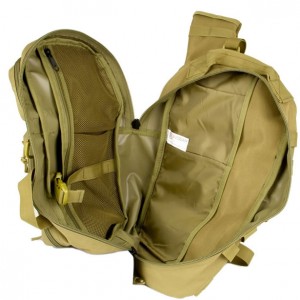 The topmost front pocket is 4.5″ x 7.5″ x 2″ providing 68 cubic inches of space, also with a built-in pocket and 3 elastic bands sewn in for securing gear. The outer surface of the upper pocket features a MOLLE Velcro ID panel with 3V Gear Logo and American flag 3D PVC patches.
The lower front pocket is 8.5″ x 8″ x 2″ providing 136 cubic inches of space with a built-in pocket and spring clip inside. The outer surface of the lower pocket features a zippered pocket and MOLLE and PALs compatible webbing.
On the exterior of the pack, there is a long compression strap running down the center to keep the pack tight and your gear secure.
Final Thoughts
This pack is lightweight and assembled from high-quality materials. Perfect for a well-organized EDC daypack if its small stature works for you. My only issue with the pack was after the first use, the elastic band material became a little frayed and it got worse from there… Other than that, the rest of the pack held up nicely, even when overstuffed. AT only $40, this pack is a good value.
For me, this bag turned out to be a little small in size. I need a little more room so my quest for the perfect EDC will continue… With 3V Gear's lifetime warranty and Amazon's outstanding return policy, returning the defective pack was a snap.

About 3V Gear

We are a small company growing rapidly. We specialize in outdoor items that are intended for shooting sports, hunting, hiking, camping, adventures, military, police, security, survival and tactical uses. We work hard to get the lowest prices possible but continue to offer exceptional quality products. We achieve this by finding our own factories for the procurement of our products which allows us to avoid many of the middle men that is often times associated with obtaining inventory of items.
We take great pride in the products we design and manufacture and we would not be caught selling anything we would not use ourselves. 3V Gear products are designed to blend functionality and comfort with rugged good looks at an affordable price. 3V Gear stands behind every product with a limited lifetime warranty, bringing you an industry standard for quality, value and customer service.

--